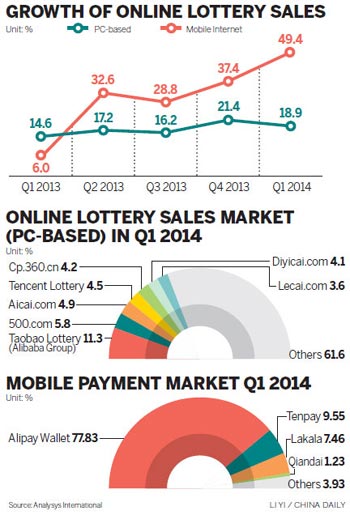 Sports lottery sales have taken off with the ongoing World Cup, and China's Internet titans are battling for a piece of that action as each seeks to boost its respective share of the mobile payments market.
QQ Lottery, a vertical lottery sales channel under QQ, Tencent Holdings Ltd's popular instant messaging service, recently announced that it has temporarily blocked Alipay, the e-payment arm of rival Alibaba Group Holding Ltd, a move that stops QQ users from using Alipay to top up their betting accounts on QQ.
The Shenzhen-based Tencent, which may soon lose its title as China's largest Internet company by capitalization as Alibaba heads to what could be a record initial public offering in August, said in a statement to China Daily on Tuesday that it takes a long time for Alipay to transfer money to people's accounts, so it has decided to block Alipay temporarily for the sake of users' experience.
"We are in talks with Alipay ... on this issue," the statement said. It also mentioned that users can use Tenpay, Tencent's own e-payment tool, and WeChat, the company's dominant mobile messaging app, to top up their betting accounts.
Alipay has, however, refuted Tencent's claim of its services "endangering users' experience". The press office of Alipay, China's leading third-party payment player, declined to make any further comment.
Though Tencent said that QQ lottery will reopen its access to Alipay as soon as the bug gets fixed, insiders said that it is unlikely that there are malfunctions with a well-established payment tool such as Alipay. The situation basically reflects the tension between Alibaba and Tencent in terms of their competition in lottery sales and mobile payment, said analysts.
Li Zichuan, an analyst with the Beijing-based Internet consultancy Analysys International, said that the online lottery market is a "deep sea" in China and it is important for players to act to boost their sales during peak sales seasons, such as the World Cup.