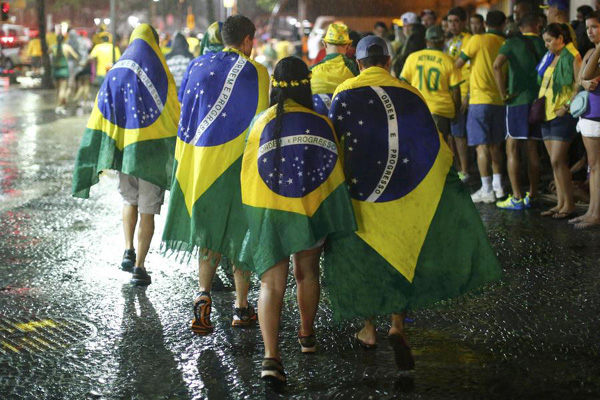 Brazil soccer fans walk in the rain after watching a broadcast of their team's loss against Germany in their 2014 World Cup semifinal match, in Rio de Janeiro, July 8, 2014. [Photo/Agencies]
SAO PAULO - For many Brazilians, Tuesday's humiliating 7-1 loss to Germany accomplished the unthinkable - a disaster even worse than the last time the country hosted the World Cup, in 1950.
Back then, it was a 2-1 loss to tiny Uruguay in the final, a massive upset that still brings tears to the eyes of older Brazilians.
This defeat may have been even more scarring, some fans said, because the final result was not even close. Brazil's team was torn to shreds.
Anger and disappointment were so intense that it threatened to darken the national mood for some time to come, with possible consequences for President Dilma Rousseff as she seeks a second term in October.
"This is worse than 1950. It's one thing to lose a game where you suffered and fought hard, and it's another to be completely humiliated," said Fernando Hazzan, 28, in Sao Paulo.
"This game is going down in history, too," he said.
Many Brazilians at the stadium in Belo Horizonte sobbed, while others began streaming out before the first half was over.
Those at bars and restaurants around the country cried or screamed at the television, or drowned their sorrows in beer.
Rousseff said on Twitter that she was "very, very sad ... just like all Brazilians."
"I'm immensely sorry for all of us, our fans and players," she said. "But let's not let ourselves give up. Brazil, get up, dust yourself off and bounce back."
The inability to win a World Cup on home turf will remain a black spot for a country that has one of soccer's proudest traditions - with five World Cup championships, more than any other nation.
Soccer is a key part of the national identity and is so often a source of immense pride.
The losing Brazilian team from 1950 suffered fallout for years, even decades.
Zizinho, a midfielder, took the phone off the hook every year on the anniversary of the game because people would call asking why the team lost. Barbosa, the goalkeeper, famously complained that he suffered for more than 30 years, equal to the maximum criminal sentence in Brazil.