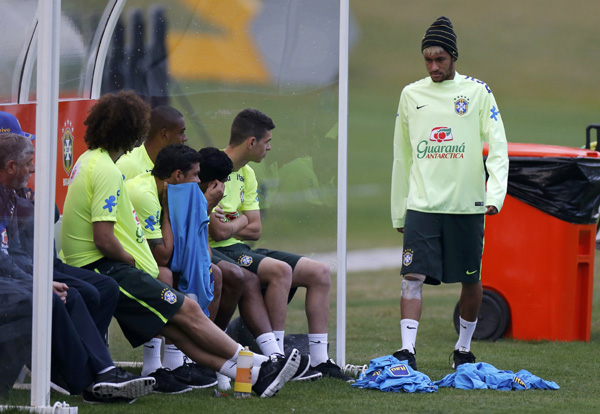 Brazil's national soccer team players observe an injury on the right leg of teammate Neymar (R) during a training session in Teresopolis, near Rio de Janeiro, July 1, 2014.  [Photo/Agencies]
FORTALEZA, Brazil - Neymar is tired of all this talk about the pressure of playing the World Cup at home. He guarantees Brazil is emotionally ready for the challenge.
Just two days before Brazil plays Colombia in the quarterfinals, Neymar downplayed concerns about the team's emotional state and said "all players are prepared."
The hosts showed their nerves when Brazil narrowly avoided elimination in a difficult match against Chile in the second round - many of them crying after a penalty shootout - prompting the team's psychologist to be rushed to the training camp to talk to the players.
Neymar is not worried, though, and says it's all under control with the five-time world champions.
"Nobody is struggling emotionally," the 22-year-old Barcelona forward said Wednesday. "All players are doing well and are prepared to play against Colombia and hopefully we will advance to the next round."
Neymar was one of the players who dropped to the field in tears when the penalty shootout against Chile was over last week. Some were crying even before the shootout, including goalkeeper Julio Cesar and captain Thiago Silva.
Coach Luiz Felipe Scolari has already acknowledged that a lack of experience could be hurting Brazil's young squad, and said the team's struggles could be partially blamed on the pressure of needing to succeed in front of the home fans.
"What happened is that it was a very emotional match against Chile, it was very difficult," Neymar said. "I was very moved, it's natural. Each player deals with his emotions differently."
The team's psychologist talked to all the players when Brazil began its World Cup preparations, but Scolari brought her back to the training camp after the problems against Chile.
Neymar said the psychologist "has helped," but it's not what's going to make a difference on whether Brazil wins or loses.
"We just have to play football," he said. "We have to get on the field and play football. The pressure of playing in a World Cup will always be there."
Neymar has been decisive for Brazil so far, scoring four goals in the first four matches. He is one of the Brazilian players with a yellow card, and another against Colombia would sideline him from the semifinals if the team advances.
Neymar sustained thigh and knee injuries against Chile but has been practicing with the rest of the squad. He said he is physically fit for Friday's match at the Arena Castelao in the northeastern city of Fortaleza.
"I'm fine," he said. "I'm not in pain at all."