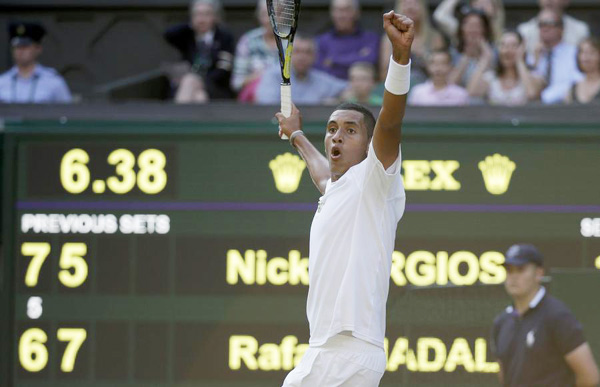 Nick Kyrgios of Australia reacts to winning the third set tie-break during his men's singles tennis match against Rafael Nadal of Spain at the Wimbledon Tennis Championships in London, July 1, 2014. [Photo/Agencies]
LONDON - Rafael Nadal ran out of comebacks at Wimbledon, losing to a brash, big-serving, between-the-legs-hitting 19-year-old kid who might just be a future star.
Maria Sharapova, somehow, seemed on the verge of a turnaround despite a flurry of unforced errors, saving six match points before finally succumbing on the seventh with - what else? - a missed shot.
And in the most striking sight of a memorable day of departures by past Wimbledon champions, Serena Williams couldn't get the ball over the net in a doubles match with her sister Venus, stopping after three games because of what was called a viral illness.
All in all, Tuesday was chock-full of significant events, and the most noteworthy winner had to be 144th-ranked Nick Kyrgios of Australia, who used 37 aces and a have-no-fear approach to beat Nadal 7-6 (5), 5-7, 7-6 (5), 6-3 for a quarterfinal berth.
"I was in a bit of a zone out there," said Kyrgios, the lowest-ranked player to beat the No 1 man at any Grand Slam tournament in 22 years.
"You've got to believe you can win the match from the very start, and I definitely thought that," the 6-foot-4 (1.93-meter) Kyrgios said. "I'm playing some unbelievable tennis on the grass."
That's for sure.
Playing in only his fifth major tournament - he got into the field thanks to a wild-card invitation - Kyrgios is the first man to reach the quarterfinals in his Wimbledon debut in 10 years. He's also the first teenager to defeat the top-ranked man at a Slam since Nadal was 19 when he beat Roger Federer at the 2005 French Open.
"We keep saying, 'Who's the next guy?' And I think we may have found him," seven-time major champion John McEnroe said on the BBC broadcast.
Nadal dropped the first set in each of his previous three matches before coming back to win. When he took the second set Tuesday, though, Kyrgios stayed steady.
"Kyrgios is young; he has nothing to lose," said Nadal's uncle and coach, Toni, "It's like when Boris Becker won here. He was 17 and had a very good serve. He could beat everyone because of his serve. It's the same with Kyrgios. He plays aggressively and without any doubts."