Please click to read more My China Stories
1) Amazing things about China: Bullet train, Maglev train.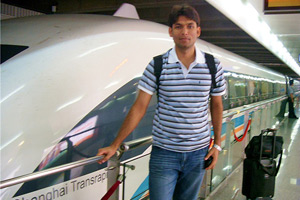 Muhammad Shahbaz [Photo provided to chinadaily.com.cn]
I had a flight from Shanghai Pudong International Airport to Sydney, and I went from Jinan to Shanghai by train. I arrived at 12:00 noon, and my flight was at 7:45 pm. I was thinking if I took the subway, it might take 40 minutes from the railway station to the airport. I bought the ticket and went inside the Maglev train. Many foreigners were taking photos of the train, and up she comes.
I entered and sat. It started and within two minutes, the speed was shown on the screen: 301km/h. I was stunned. After 8 minutes it stopped and there was an announcement: "Fei ji chang dao le" (we have arrived at our destination, the airport). Besides, after coming to china, I came to know that I can shop online. When it comes to online shopping, no one can compete with Taobao. You sit in your room and order something, and then it arrives at your doorstep—the craze is unstoppable. 58.com, ganji.com are other good examples.
2) There were tears in my eyes, as the young girl told my professor, "Wo tong guo le" (I passed the exam).
One month ago, Sir Niu Jun told the patient, "you can appear in Gaokao," and it was the whole team of our General Surgery department headed by Professor Niu Jun celebrating the happiness that we successfully operated on the 17-year-old girl with the Thyroid cancer metastasized to lungs. Even surgeons in some famous hospitals said they could not do the operation, but she wanted to appear in the exam. The exam was on June 7th and she was admitted to our ward on May 15th. She had the option to come after exam or get operated at once. She opted to go for the operation, as the cancer could spread to other parts of body if she chose later. The surgery was done on May 20th successfully, and she was able to speak within a few days after the operation. She was discharged on May 27th, 10 days before the exam.
3) "Bu dao chang cheng fei hao han".
"Bu dao chang cheng fei hao han." The sentence means: one who fails to reach the Great Wall cannot be called a man. "Du wan juan shu bu ru xing wan li lu." It means: traveling thousands of miles is better than reading thousands of books. After reading this saying, I planned to travel around the world and especially in China during my spare time.
I cannot forget the 28-hour Beijing trip. On June 22nd, 2011, it was 3 am and I received a call, saying "I have arrived". The company bus driver was waiting for me and Misbah (my best friend) at the hotel gate. We were to set to see the flag raising ceremony at Tiananmen Square at exact 5 am, and then we set off for the Great Wall. We were there at 7 am and the tickets were ready. This company was good. It took 140 yuan for hotel to pick up us to Tiananmen Square, the Great Wall, the Forbidden City and one museum, and back to the railway station in the afternoon. We took so many photos and went around the main historical places of Beijing within 14 hours.
4) OK Airlines and Kunyu Mountain.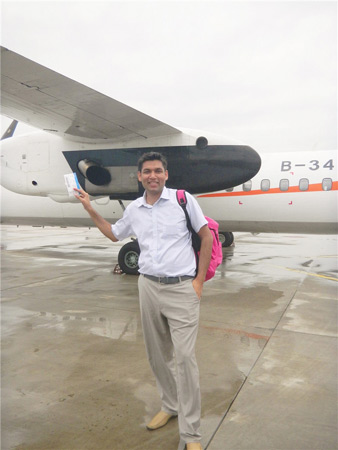 Muhammad Shahbaz [Photo provided to chinadaily.com.cn]
Almost 90% of Chinese people can speak some English, like OK, yes, no, hello, and bye-bye. I never imagined that there would be an airline company in the world with the name: OK airlines. I was surprised when I arrived at Shenyang Airport Terminal 1 and found out there was no airline by this name. I sensed a feeling of being cheated, but suddenly I found that there were airlines by the name OK Airlines at Terminal 2, as it was written on my E ticket. I took a sigh of relief and then I was more surprised to see the size of the plane: a 28-seat small jet, in which the business class was with back benchers. Haha. This plane flies from Shenyang via
Dalian
to Yantai.
Kunyu Mountain was also an unforgettable scene in my life. I climbed the mountain with my friend Liu Danhui in the afternoon for 4 hours and coming down after sunset with no bus. The last bus already left at 4, but the gatekeeper arranged a taxi. Thanks to him.
5)The first day in Urumqi.
On February 12th, 2006, I was at Urumqi International Airport. I was wearing a shirt and a normal jacket, but coming out of the airport, I was surprised: the white cotton balls were falling from sky.
I am from Sargodha, a city in Pakistan, Punjab Province, where if it is 0 degree Celsius, the school will have a special day holiday. It is a city where the temperature in summer touches 40 degree Celsius easily. As far as I know, it hasn't had snow fall in my city for one century. Coming to China and experiencing weather like this was unbelievable. Quickly I went in the airport, opened my luggage, took out 2 jackets and wore. I went to the hotel and went to sleep, but suddenly I got up hearing the fireworks outside everywhere. I asked the reception what was happening outside, she replied me in Chinese: "Xin nian kuai le, Chun jie kuai le" (Happy new year, Happy spring festival). This was my first word that I learned after "ni hao".
After I came to Jinan, Shandong Magazine took my interview. The editor asked me a question which I still remember: Ali, what is your first impression of China? My answer was: cold.
6) Professor Liu Zhiyu and me in the Chinese Consulate in Karachi, Pakistan.
I was in my homeland there, and Secretary of the Minister of Education was welcoming the delegate with the bouquet. We stayed at the Chinese Consulate in Karachi, and I was searching for the Pakistani food in Pakistan, but there was still Chinese food in the Chinese Consulate as there was a Chinese chef. After eating noodles, when all members of delegate went to their rooms, I silently went to the kitchen and asked the Chinese chef, saying "elder brother, please help me make the Pakistani Paratha/naan and Chicken curry". He nudged and took out a packet from the refrigerator, where there were ready-made parathas and chicken curry. I have already made a new Chinese friend.
The next day, we went to the mausoleum of Quaid-e-Azam Mohammad Ali Jinnah, founder of Pakistan. We received guard of honor, the best memories of my life. I wrote comments in the mausoleum diary with my professor. I was given honor in my country because of the Chinese delegation; I will remember that for long time. My father presented a Pakistani Souvenir, Pagg, Pakistani turban to my professor Liu Zhiyu, saying "Pak-Cheen Dosti Zindabad (in Urdu) Zhong ba you yi wan sui" (China-Pak friendship last forever).
7) My first speech on September 26th, 2007
Muhammad Shahbaz [Photo provided to chinadaily.com.cn]
I always wanted to go to research field, but in Pakistan, it is a dream of the parents that their child became a doctor or an engineer. As there was no short cut to go directly to research, I chose MBBS degree on my parents' wish.
During my undergraduate studies, I started going to the lab in my extra time and published a research paper with the help of my professor in my 3rd year. I was in Shanghai with my professor then. It was on September 26th, 2007, the day on which I was to deliver my first presentation. My heart was beating up and I was feeling nervous. Professor Liu came to me and said, "Ali, there is a long way in front of you, and the success follows the braveness." I was confident. I went to stage and delivered my presentation.
2 years later in Sydney, Australia, I was more confident and I participated in a competition of young scientist speakers from 27 countries. I won the first prize. Sometimes people around the world may be thinking that I am a graduate of China, and someone even says, oh Made in China. I want to say that China gave me the strong base for my future. Even my home country did not give me the education and opportunity to be a doctor and the best young scientist speaker. After all, it depends upon the individual. If you cannot change yourself, no one can change you. We were having a dinner Last week, and my friend said let us 7 Shandong people and one foreigner cheers. "Sir, I am not a foreigner but a Shandong person," I said. Everyone was laughing. Jinan is my second hometown. I love it, and I am proud to be a graduate of Shandong University.
8) Zhong Guo Tong.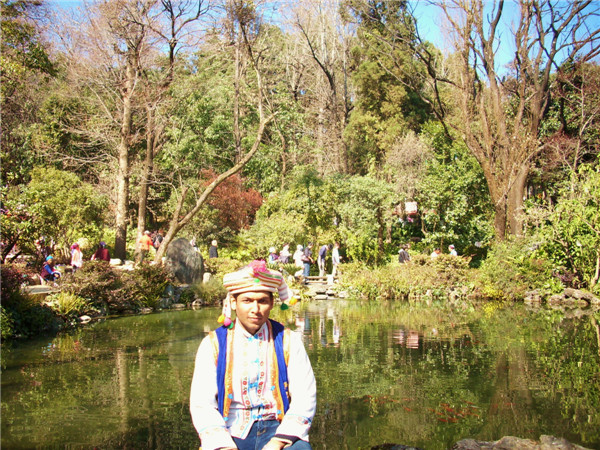 Muhammad Shahbaz [Photo provided to chinadaily.com.cn]
Most of my friends who know me and who meet me call me Zhong guo tong (China Expert), and even my favorite sport player after Inzmam ul Haq (cricket player) is Yao Ming (basketball player) and Liu Xiang (athlete). Although Liu Xiang did not win because of his injury, he is still very famous. I went to see him in the 2009 National Games held in Jinan, and I cannot forget my opera performance at the Inter-University Club show. I was wearing a red Chinese traditional opera dress and singing opera. It is an amazing experience. I went to visit a village near the Yellow River in winter, and I saw some farmers who were working on rice threshers. I went there and they took photos with me.
Last summer, I went to Shaolin Temple in Zhengzhou province with my professor Niu Jun. We climbed to the top of the mountain and took many photos. It was the best experience of my life. At the base of the mountain, the children practicing Kongfu was something amazing. There is Lanzhou Lamian, a kind of famous noodle restaurant. We ate and started to learn cooking. After that, I tried to cook at home and many of my Pakistani classmates could not cook so. We taught Pakistani recipes to Chinese friend and she opened a Pakistani Chinese restaurant named Fatimai jiejie's Restaurant. She makes the samosa, which is made with some changes in dumpling recipes. Furthermore, I found out that there are two words same in Chinese and Urdu Language: "da ye" means elder uncle, and "da yi" means elder aunt. They have the same meaning and pronunciation in Urdu. If no one wants to listen to your song, you do not need to worry, because you can go to the KTV, where you can sing loudly and have a music party. During these years, I have visited many places of historic interest and scenic beauty in China, all these were unforgettable experiences in my life. I have 2 best friends, Gao Huijie and Liang Benjia. I cannot stop laughing when I think about our beautiful friendship.
Sometimes people ask me, Do you like China? My answer is always the same. I don't like China but I love China.
Dr.Muhammad Shahbaz (Ali) is a Master Degree student of General Surgery on CSC Scholarship at Shandong University School of Medicine.