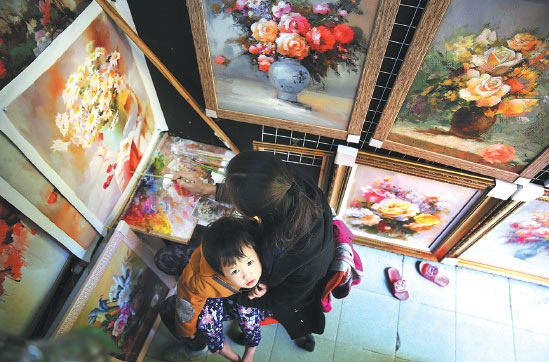 An oil painter works on a still life painting as her daughter sits on her lap at an art gallery in Dafen village, Shenzhen, Guangdong province. Xu Yuanchang/ For China Daily
Dafen was once a world-leader in the production of oil paintings, but the fragile global economy and China's slowing growth is forcing artists to adapt to a new reality. Zhou Mo reports from Shenzhen, Guangdong province.
Qiu Jiwen has worked as an artist in Dafen village for more than two years. For years, the village, in the southern city of Shenzhen, Guangdong province, was one of the world's largest producers and exporters of oil paintings.
Although Dafen's arts-related output was worth 4.3 billion yuan ($646 million) last year, a rise of 3.6 percent from 2014, things are changing.
The combination of an uncertain global economy, China's slowing growth and rising domestic competition has seen demand plummet among regular customers, such as hotels, conference centers and private collectors, and resulted in spiraling sales.

Although his monthly outgoings are usually about 4,000 yuan, last month, Qiu earned just 2,000 yuan, far from enough to cover his basic living costs.
The 30-something pays 1,300 yuan a month to rent a one-bedroom apartment, where he lives with his 1-year-old daughter, and spends about 1,200 yuan a month on food, excluding baby milk powder. He makes his paintings in a small space in the village that he rents for 1,000 yuan a month.
"A monthly budget of 4,000 yuan is very small, and I am unable to feed my family on such a low income," he said.
Qiu is one of thousands of painters in Dafen being affected by falling demand, both domestically and internationally. According to official statistics, the village is home to more than 1,200 art galleries and 60 oil painting enterprises, while more than 8,000 people are engaged in the local painting industry.
"Business has declined a lot since the start of the year," said Wei Haihan, 37, who runs a painting workshop and a factory in the village. "Now, we only make 50 percent or even less than we made last year."
Another painter, who only gave his surname as Huang, said he had not received an order for two months.
The luxury gap
Oil paintings are a luxury rather than a necessity, and the industry has been one of the first to be affected by the macroeconomic environment, while the impact of slowing economic growth is evident.
"As economic growth softens, construction of properties and hotels also slows, which directly affects demand for paintings. Meanwhile, rising competition from other markets, such as Xiamen in Fujian province, and Vietnam, has also diverted some business from the village," said Liu Yajing, director of Dafen's management office.
According to Wei, hotels were once major clients. "Sometimes an order from a hotel could reach 1 million yuan or more. But now, in Dongguan city, Guangdong, where a lot of orders came from, a number of hotels have closed following a crackdown on prostitution, while in other cities across the country, the economic contraction has slowed the construction of new hotels."
Since the government's anti-corruption drive was launched in 2013, the loss of orders from officials, once a powerful consumer group, has also contributed to the decline, he added.
The development of oil painting in Dafen can be traced back to the late 1980s, when a dealer from Hong Kong first brought the business to the village. He employed art students and painters to produce and sell works, mostly reproductions of masterpieces by famous Western artists such as Van Gogh, Monet and Picasso.
As the number of painters rose, the village gradually developed into a globally renowned production base for oil paintings, at one point accounting for more than 70 percent of the global market share for art.
In the past, Dafen's painters relied heavily on overseas sales, with exports accounting for up to 80 percent of total sales. However, the 2008 global financial crisis dealt a major, long-lasting blow to their business. Government data show that sales of oil paintings fell more than 50 percent to 180 million yuan in 2008 from 340 million in 2006. A previous report by local media said that in the first half of 2012, exports fell 52.3 percent from the same period a year earlier.
To adapt to the change, the artists focused their attention on the domestic market, and now about 50 percent of sales are made in China.
"Business from the domestic market began to rise considerably from 2010, when we were still struggling to recover from the global financial crisis. That helped offset our losses, but now, the domestic performance is getting worse. We don't know how tomorrow will turn out," said Zhang Minxin, who has lived in Dafen for 12 years.
Luan Liyin, head of the Dafen Fine Art Industry Association, said that as the market changes, the key for survival for the artists and the village lies in innovation and integration with other industries.
Originality is key
"The era when painters relied on replicating Western masterpieces is gone. People now have higher demands for art, and that requires painters to create original works," Luan said.
"Meanwhile, Dafen should integrate the culture, tourism and internet industries to develop art derivatives to extend the art industry chain. In this way, it could achieve a transformation, upgrade and make development sustainable."
An increasing number of Dafen painters have already realized the need for change and are making efforts to adapt to the new environment. The village now hosts more than 200 painters producing original artworks, and it's estimated that more than 60 percent of Dafen's art dealers have opened internet marketing platforms to seek online-to-offline development.
"The government is also providing support to help upgrade the industry by improving the infrastructure and offering training to painters. Dafen is set to be transformed into a high-end art market with renewed economic vitality," said Liu, from the Dafen management office.
Contact the writer at sally@chinadailyhk.com
Western masters brushed off by new trend
Having worked in China's oil painting industry for decades, Luan Liyin fully understands the recent developments in the sector.
"In the past, reproductions of Western masterpieces won popularity with a large number of buyers. But now, it's the artists who incorporate Chinese elements and displays in Western fashionable colors that are winning the market," the 49-year-old said.
"To produce popular pieces, painters should first get to know what this year's fashionable colors are. For example, purple, blue and orange are the fashionable colors of 2016. Therefore, artworks based on those three colors are selling well this year."
He said comprehensive material painting - which integrates a variety of materials with oil paint - is becoming increasingly popular in the global market, accounting for more than 60 percent of sales in both the domestic and international markets. Traditional Chinese paintings, watercolors and other types of art account for the other 40 percent.
There is some light at the end of the tunnel. Although many Chinese painters are being affected by the economic downturn, masterpieces by famous artists can still make a splash. According to a report by the Hurun Research Institute, contemporary artist Zhang Daqian has replaced Qi Baishi as the most popular artist in China. In April, Zhang's ink-and-color painting Peach Blossom Spring was sold for HK$270 million ($35 million) at Sotheby's major spring auction in Hong Kong, creating a new world record for the artist's work.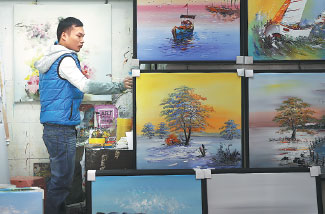 A worker arranges oil paintings at an art gallery in Dafen. Xu Yuanchang / For China Daily