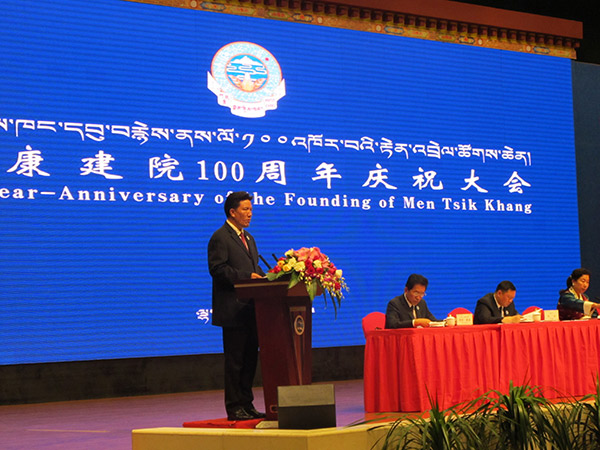 Losang Gyaltsan, chairman of the Tibet autonomous region, was addressing the opening ceremony of the first China Tibet International Forum on Tibetan Medicine. [Palden Nyima/China Daily]
An international forum on Tibetan medicine was held at the InterContinental Resort Lhasa Paradise on Tuesday as part of the Institute of Tibetan Medicine and Astrology's activities to celebrate the 100th anniversary of its founding.
More than 450 participants, including scholars and professors in the field of Tibetan medicine, and officials from central and regional governments attended the forum.
Wang Guoqiang, deputy director of the National Health and Family Planning Commission, said the forum marked a milestone in Tibetan medical history.
"As one of the 'five major sciences' of Tibetan traditional culture, Tibetan medical science is a great treasure house," Wang said.
The forum was opened with an address by Losang Gyaltsan, chairman of the Tibet autonomous region.
"Tibet is the birthplace of Tibetan medicine and the regional government has always placed a high importance on its development," Losang Gyaltsan said.
"The state has invested more than 800 million yuan ($107 million) over the past five years in boosting the infrastructure and supporting the development of Tibetan medicine."
The institute was formed from an existing facility, the Mentsekhang (Tibetan Traditional Hospital), which was established in 1916.
There are 30 public institutes of Tibetan medicine and astrology in the region now, with 80 percent of township hospitals and 20 percent of village clinics able to provide Tibetan medical services.
Dr Stephan Kloos, ERC project leader of the Institute for Social Anthoropology at the Austrian Academy of Sciences, presented a thesis entitled "Tibetan Medical Education outside China" to the forum.
"From its beginning, Tibetan medicine as we know it today has been an international assemblage, incorporating the best medical knowledge from China, India and Persia into a uniquely Tibetan framework, and then re-exporting it along with Tibetan Buddhism through vast parts of Inner Asia," Stephan Kloos said in his thesis.