Premier Li says strategic communications, cooperation should be strengthened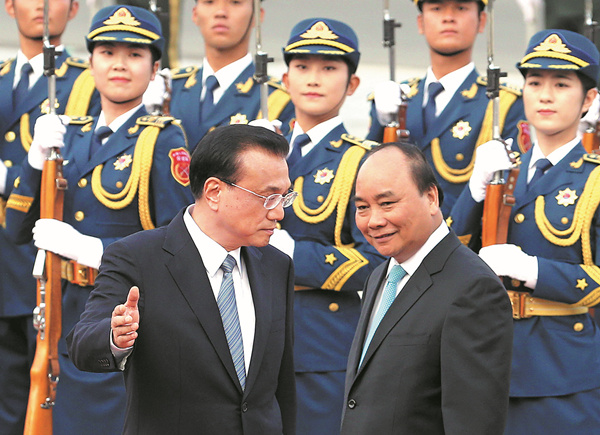 Premier Li Keqiang welcomes visiting Vietnamese Prime Minister Nguyen Xuan Phuc in front of the Great Hall of the People in Beijing on Monday. Wu Zhiyi / China Daily
China and Vietnam pledged on Monday to properly manage differences over the South China Sea and to strengthen maritime cooperation to enhance bilateral ties.
The pledge was made on Monday when Premier Li Keqiang met with visiting Vietnamese Prime Minister Nguyen Xuan Phuc.
Despite increasing bilateral trade, Beijing and Hanoi have competing claims over some islands of the South China Sea.
Phuc is leading an unprecedentedly large delegation of 132 members to Beijing during a six-day trip, his first to China as prime minister after a leadership reshuffle in Vietnam in July.
The South China Sea issue concerns China's territorial sovereignty and maritime rights, and both countries should work together to safeguard stability at sea by managing differences and promoting maritime cooperation, Premier Li told Phuc.
China is willing to strengthen strategic communications and high-level exchanges as well as expand people-to-people exchanges with Vietnam, Li said. He added that he hoped both sides could link their development strategies, advance cooperation at sea, on land and in finance, and enhance practical cooperation in various fields.
Phuc said Vietnam will properly handle maritime differences to solve the issue in a peaceful way, boost maritime cooperation in less-sensitive fields and maintain stability at sea. He also said the Southeast Asian country will strengthen political trust, keep high-level exchanges and boost practical cooperation with China.
After their meeting, the two countries signed nine agreements to boost cooperation in such fields as production capacity, infrastructure, education, cross-border trade and climate change.
Last week, China and 10 members of the Association of Southeast Asian Nations released documents to apply the Code for Unplanned Encounters at Sea to the South China Sea and to establish a senior diplomats' hotline for maritime emergencies.
The agreements were signed after the 19th ASEAN-China Leaders' Meeting in Vientiane, the capital of Laos.
China and Vietnam will manage differences over the South China Sea in accordance with agreements that both sides signed a few years ago and the UN Convention of the Law of the Sea, Vice-Foreign Minister Liu Zhenmin said.
Phuc said Vietnam maintains that maritime disputes should be solved peacefully through negotiations.
Phuc arrived in Beijing on Monday after attending the opening ceremony of the 13th China-ASEAN Expo on Sunday in Nanning, capital of the Guangxi Zhuang autonomous region.
Phuc will head for Hong Kong on Wednesday after meeting with five members of China's top leadership, Liu said.
From January to July, the trade volume between the two neighbors reached $52 billion and is expected to exceed $100 billion this year.
huyongqi@chinadaily.com.cn