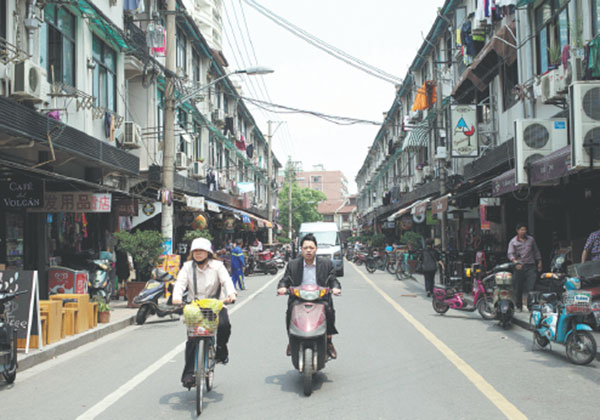 A daytime view of Yongkang Road in downtown Shanghai in 2014. [Photo by Gao Erqiang/China Daily]

Bars in Yongkang Road closed after complaints from residents, as Zhou Wenting reports from Shanghai.
Yongkang Road in Shanghai is a tree-lined thoroughfare bounded on both sides by rows of three-story, residential buildings that are almost a century old.
In recent years, more than 40 bars have sprung up all along the 50-meter-long street, attracting throngs of Westerners and tourists who come to party late into the night.
Travel and lifestyle magazines have dubbed the area, in the former French concession of Shanghai, a must-see and "first stop" for newly arrived expatriates.
But now, everything seems to have changed.
Most of the bars are closed, with notices on their doors informing customers that they will be back soon or are moving elsewhere.
"We're all clear that the prosperous days for Yongkang Road are gone," said Xie Yong, one of the street's residents.
"Urban management officers and police cars patrol the road all the time now, except in the early morning hours. The number of customers has also dropped by at least 80 percent."
Bao Bingzhang, head of Xuhui district where Yongkang Road is located, said in July that noise complaints had been an issue for years and were the ultimate reason for the suspension of business.
"I've never seen a street like this anywhere else. Customers from all over the world have said the same as well. Having neighbors above us is unique and I can see why it has created problems," said Alexandre Fortin, a bar manager from Canada with 20 years experience who works on Yongkang Road.
Starting from August, all the bars on the street were ordered to remove their outside tables and chairs, and around 30 establishments were closed for not having a business license.
It turned out that some had rented the space they were using from former residents.
"The city- and district-level governments are still working on a future plan for Yongkang Road and haven't decided whether to reopen the bars, introduce a new business format, or let residents live on the first floors again," said a spokesman from the Tianping sub-district of Xuhui who only gave the surname Huang.
Angering the locals
Yongkang Road used to host a bustling food market where vegetables and live poultry were sold. Residents complained about the noise, smell and mess until 2009, when the government decided to give the street a facelift.
Shanghai Paifeng Yongkang Business Management Co was authorized to try and attract more business to the area. Several clothing stores opened, but trade was sluggish.
Then, in 2011, five French nationals opened a bar, which became popular among expatriates, and many more followed. About 90 percent of the bars on the street were opened by foreigners, including French, Italians, Americans, Australians and Belgians, the company said.
The street quickly gained in popularity among many of Shanghai's 170,000 or so foreign permanent residents, who loved grabbing a beer and catching up with friends after work. On many evenings, the area became so busy that patrons spilled out onto the street, leaving barely enough room for cars to squeeze through.
The revelry would often begin at around 5 pm and last until midnight-or even longer during "foreign festivals", according to Ding Weifen, who lives in the neighborhood.
All the noise caused problems, however. Most of the street's buildings have poor sound insulation and many residents on the upper floors said they had trouble sleeping. Some complained that they could only hear their television sets if they turned the volume all the way up and closed their windows.
One-third of the residents in Yongkang Road, more than 1,500 people, are age 60 or older, according to the neighborhood committee's statistics.
About 50 residents are age 90 and above.
There were also fears that public security was being endangered by the bars, which were also thought to be attracting prostitutes.
"It wasn't rare to see drunk foreigners throwing up in our neighborhood, and some people even climbed up on the roofs," Ding said.
Some residents became so exasperated with the situation that they starting dumping water onto the noisy crowds below.
After several of these "water attacks" in 2013, the bars agreed to stop taking orders after 10 pm.
They also began paying each upstairs household 1,000 yuan ($150) per month to subsidize their electricity costs, as residents complained that they could not open their windows because of the noise, and so had to use air conditioning.
"We signed a contract with the business management company. Upon receiving the money, we agreed not to abuse the patrons, complain to government authorities, or release negative information to the media," said a resident who asked to remain anonymous.