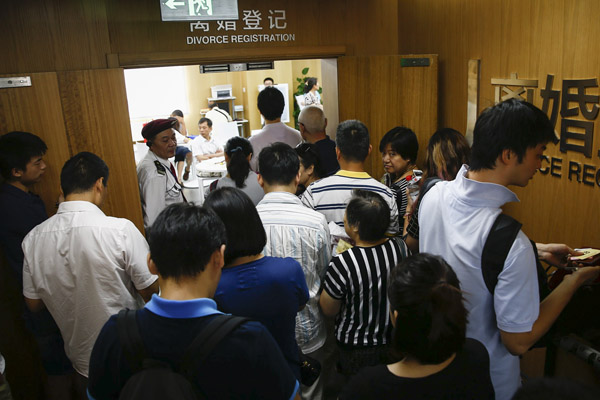 A divorce registration office of the Shanghai Civil Affairs Bureau is bombarded by couples on Aug 30. [Photo by ZHANG RUIQI/FOR CHINA DAILY]
Shanghai natives Tang Tao and his wife, who tied the knot three years ago, were determined to divorce on Aug 30 to save some money.
They left their 20-month-old girl with their parents and rushed to the district's marriage and divorce registration office before sunrise.
Luckily, they got No 7 on the waiting list to have their divorce registered that day. Because of the surprising rise in the number of people swarming to the office that week, it had limited the number of divorce registrations to no more than 60 per day.
Such offices all over Shanghai had been bombarded by couples since rumors began circulating that, beginning on Sept 1, couples who divorced would still be recognized for a whole year as married under home purchase policies.
The policies require higher down payments and sales taxes on houses purchased by couples who already own a home.
Statistics from Didi Chuxing, China's largest car-on-demand service, showed that the number of trips to marriage and divorce registration offices in Shanghai on Aug 29 and 30 tripled that of the same period the previous week.
Tang and his wife bought an apartment when they got married, but they wanted to buy a larger one.
"My wife doesn't have an apartment under her name. If we divorced and bought an apartment under her name, we will save more than 100,000 yuan ($15,000) in sales taxes," said Tang, 34.
"We just don't want to waste money. Why don't we spend that 100,000 yuan on something more meaningful-for example, a luxury trip to Europe for the family? Even though we are apart legally, we don't regard ourselves as divorced. We are still happy together," he said.
Staff at the divorce registration offices were familiar with couples who took the "fake divorce" approach to avoid the limits on home purchases.
"When my husband and I were at the office, about five other couples beside us didn't look like those whose marriages were on the verge of splitting up," said Wang Yongyong, a 58-year-old from Shanghai who divorced her husband last year in order to save more than 20,000 yuan in taxes when purchasing an apartment for their son once he is married.
Wang said she was prompted by her former classmate to take the divorce approach.
"At least three people in our WeChat group of 20, who used to be classmates in junior high school, got divorced to dodge the limits on home purchases," Wang said.
However, there are also cases where people made the "fake divorce" real.
A Shanghai resident surnamed Jiang said it might be impossible for her and her ex-husband to remarry, which was their mutual promise when they got divorced a year ago.
Jiang and her husband bought an apartment in 2013. They agreed to divorce and put the apartment under the husband's name so that Jiang could buy another apartment with lower taxes and down payment.
"But we had huge conflicts in the process of purchasing the new apartment, and he didn't pay the mortgage with me as he promised," Jiang said.
Zhou Haiwang, vice-director of the Institute of Population and Development at the Shanghai Academy of Social Sciences, said that when so many people decide to divorce against their wishes for family stability, policy makers should consider an adjustment.