Pet lovers like to spoil their special friends, but are they ready to spend hundreds of dollars on photos or videos of them?
In terms of customers' demands, pet photography costs between 1,200 yuan (nearly $180) and 3,600 yuan, said Zheng Qingdong, who took to pet photography 10 years ago and now provides door-to-door services across the country.
Customers can book a photography session for their pets three months in advance, said Zheng, who will bring two cases of lighting equipment to a customer's home and take photos.
The main difficulty in pet photography lies in that the animals are uncontrollable, Zheng said. To capture pets' dynamic and cute moments, photographers have to interact with them before taking the photos; sometimes there are others playing with the cute animals.
There are also some professional pet photo studios, since more and more pet owners want to record their pets' growth in photos.
"We promise to give you and your beloved pets a good memory," according to a professional pet photo studio in Hongshan district, Wuhan city in Central China's Hubei province.
The studio offers pet photos from from 199 yuan to 1,199 yuan, depending on the number of photos and poses.
Besides indoor and exterior shots, the pet photo packages include pet clothes, albums, mugs, key rings and other customized products. The studio also provides tailored photo services.
"Eight years ago, I could find few professional pet photographers in Wuchang," in Central China's Hubei province, the owner of an 11-year-old chow chow, surnamed Xia, told the Wuhan Morning News.
"At present, pet photography has some new forms, such as short films or videos in a supplement to static images," said Li Yang, an insider from LOVE CAT, an official operating agency authorized by the World Cat Federation.
Pet photos have been popular for years. Let's have a look at some from around the world: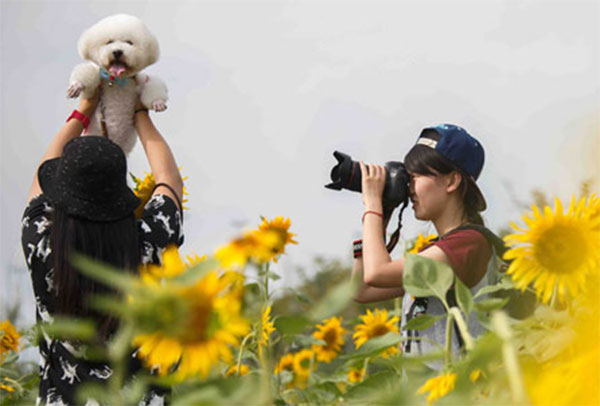 A photographer takes photos of a bichon frise carried by her partner in Nantong city, East China's Jiangsu province, Sept 17, 2015. [Photo/VCG]