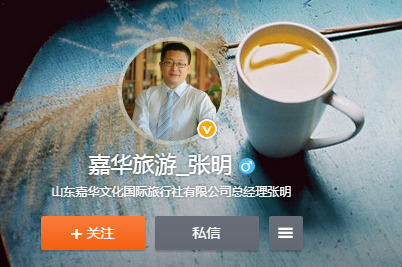 A screenshot from the Sina Weibo account of Zhang Ming, general manager of a travel agency in Shandong Province.
A company has fined more than 200 employees 50 yuan ($6.5) each for failing to comment on the general manager's Twitter-like Sina Weibo posts, Beijing Youth Daily reported.
At the travel service company in Jinan City, capital of East China's Shandong Province, employees were required to take turns reading aloud via a loudspeaker online updates made by their general manager Zhang Ming every morning, and also leave comments.
Zhang's Weibo posts were mostly motivational quotations or information on company activities. Each post is currently followed by hundreds of comments, most of which are just an emoji meaning "like."
Zhang declined to answer the newspaper's interview request, but updated his Weibo account with a new thread, saying the company's success has been built upon "a shared mind and strong execution abilities".
Zhao Ruxin, manager of the marketing department at the company, said the purpose was to improve morale, especially among young people who "needed mentoring."
But several staff members told the newspaper they thought the practice unreasonable and breaches labor laws, though nobody dared to stand up. One employee was already fined 150 yuan in a month, sources told the paper.
Han Xiao, a lawyer in Beijing, said Chinese law forbids companies from levying a fine against workers, who can lodge complaints with the labor inspection department.