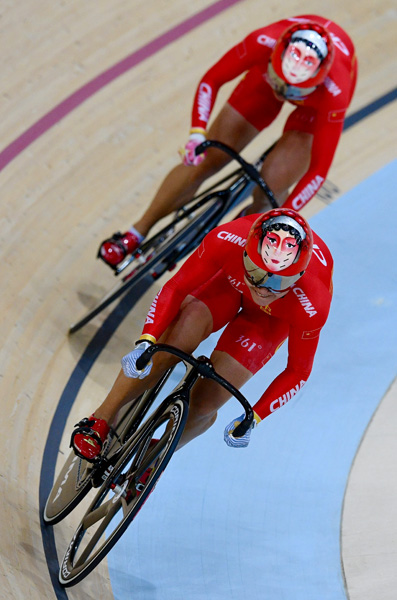 Track cyclists Gong Jinjie (left) and Zhong Tianshi compete in a preliminary round at the Rio Olympics. [Photo/Agencies]
As Chinese female track cyclists Gong Jinjie and Zhong Tianshi ducked their heads and sprinted to their history-making gold medal in the Olympic Velodrome in Rio de Janeiro, the faces of Peking Opera characters painted on their helmets also came into the spotlight for millions of spectators and viewers.
Zhang Dongliang, designer of the helmets, had a sleepless night watching the race on TV at his home in Guangzhou, Guangdong province.
"I feel as if I won the Olympic gold medal myself," Zhang wrote in a post on the mobile messaging app WeChat, below a photo of the two cyclists sprinting toward the finish line.
However, the 30-year-old bicycle spray paint designer didn't know his helmet designs had become a hot topic among netizens until dozens of phone calls from media woke him up the next morning.
"It was totally unexpected. I'm glad to see that Chinese culture manifested in the helmet designs has won so much favor," Zhang said.
"I hope that the unexpected popularity of the helmet designs enables more people to become aware of the elite craftsmanship within the cycling equipment design and spray painting industry, which is still a niche market in China," he added. "Such craftsmanship deserves respect."
An avid cyclist himself for 10 years, Zhang founded Incolor, a design studio of four designers based in Guangzhou, in 2012 because of his passion for the art of spray painting.
A friend of Zhang's got to know Xu Chao of the national track cycling team during a race and recommended Zhang's design team to Xu, who was looking for designers to add to the national cyclists' helmets "some elements to show everybody at the Olympics they are Team China".
Zhang's team chose to paint the faces of legendary Peking Opera characters on the helmets.
The helmet of Xu, a male cyclist, had an image of Zhang Fei, a military general in the Three Kingdom Period (AD 220-280), who was known for his bravery and loyalty.
Mu Guiying of the Song Dynasty (AD 960-1279) was painted on the helmet of Gong, who failed to win gold four years ago at the London Olympics but held on to take gold this year. Mu safeguard-ed the country together with her husband's military family and is a cultural symbol of a steadfast woman.
The helmet of female cyclist Zhong featured Hua Mulan from the Southern and Northern Dynasties (AD 420-581), a woman of vigor and courage and a warrior who replaced her aged father to join the army.
"Mu Guiying and Hua Mulan are well-known heroines whom Chinese people usually think of when it comes to great women. Their stories fit the two female cyclists' stories well," Zhang said.
"In painting the characters' faces on the helmets, it was our wish that the two female cyclists would become national heroines at the Olympics," he added.
While it usually takes half a month to produce a helmet, Zhang's studio spent two months on refining the designs and producing the three Olympic helmets, free of charge.
There are already helmets that claim to be "the same as the Olympic helmets with Peking Opera faces" for sale on online shopping plat-forms. Such items, which Zhang said are all copycats, were priced at from 300 to 500 yuan ($45 to $75) each.