From environmentally friendly tableware to trains and security, athletes and public benefit
An environmentally friendly technology company in Huzhou, Zhejiang province, is supplying biodegradable tableware to the Rio Olympics, adding to an already long list of made-in-China products appearing at the Games.
The disposable tableware - supplied in cooperation with a Brazilian partner and worth a total of $500,000 - is made of cornstarch. The technology creates no chemical pollution, according to Baron Xie, Huzhou Global Xinyifeng Environmental Protection Technology Co's chairman and general manager.
The products, including plates, bowls, cups and cutlery, are used in the athletes' cafeteria and at the media village in Rio de Janeiro and can decompose within three months, Xie said.
"We are proud to supply green products to the Rio Olympics, which promotes a green Games. It provides us with a chance to show the world what made-in-China products are like nowadays," he said.
Zhejiang province has been noted for the production of inexpensive goods using low-tech approaches.
"Biodegradable tableware costs more to produce than non-degradable products, but it is the future trend and good for the environment," Xie said. "We will continue to expand research and production," Xie said, adding that the company invests an average of 2 million yuan ($302,000) each year in environmentally friendly technology.
The tableware is just one example of a variety of Chinese products appearing at the Olympics.
China-made subway trains transport about 300,000 passengers between downtown Rio and the Olympic Village each day. More than 250 security products supplied by Beijing-based Nuctech Co are used for security checks outside Olympic venues. Video surveillance systems, air conditioning systems and walkie-talkies are some of the other Chinese brands in evidence.
"The advantage of Chinese products in the past was low labor cost. But now we see more products being exported that have intellectual property rights that are owned by Chinese companies or that are designed by Chinese manufacturers," said Zhou Mi, a senior research fellow at the Chinese Academy of International Trade and Economic Cooperation.
"Although they are not necessarily high-tech, this change shows the increased competitiveness of Chinese exports in global trade."
Made-in-China products at the Rio Olympics have drawn praise from netizens.
"This is something all Chinese should be proud of - not just how many gold medals our athletes get," said a netizen named "fengshenguxing" on Weibo.com.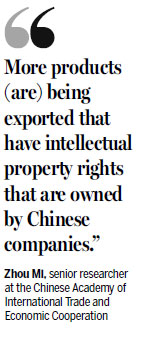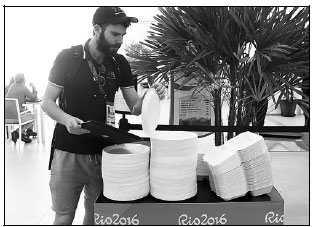 Chinamade disposable tableware is supplied to the Rio Olympics. Wei Xiaohao / China Daily