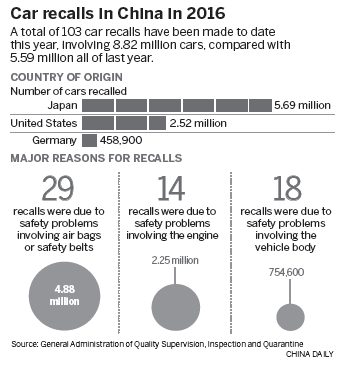 China has recalled nearly 9 million cars with potential safety risks since the beginning of the year, a historic high and more than twice as many as the same period last year.
Of the 8.82 million cars recalled, more than 4.8 million had problems with air bags and safety belts, which pose potential dangers, said Yan Fengmin, chief of law enforcement supervision at the General Administration of Quality Supervision, Inspection and Quarantine.
Other major problems were with the engines and car bodies, Yan said.
Several things contributed to the surge in the number of cars recalled since the beginning of the year, including an increase in car sales.
In addition, more than 4.7 million cars of various brands were recalled because of unsafe air bags produced by Takata, a Japanese component producer, accounting for the biggest share of cars recalled, according to the administration.
In May, SAIC General Motors Co, a joint venture between State-owned SAIC Motor Co and General Motors, announced the recall of 2.16 million vehicles that could have safety problems with their engines. It was the largest recall for a single brand in China, the administration said.
Most of these cars were foreign brands, including Japanese, US and German makes.
About 80 percent of the cars were recalled after the administration got involved, Yan said.
More than 12.8 million vehicles were sold in China in the first half of the year, an increase of 8.1 percent compared with the same period last year, according to the China Association of Automobile Manufacturers. About 57 percent of them were from joint ventures or imported.
Nearly 25 million vehicles were sold last year in China, the largest market in the world, the association said.