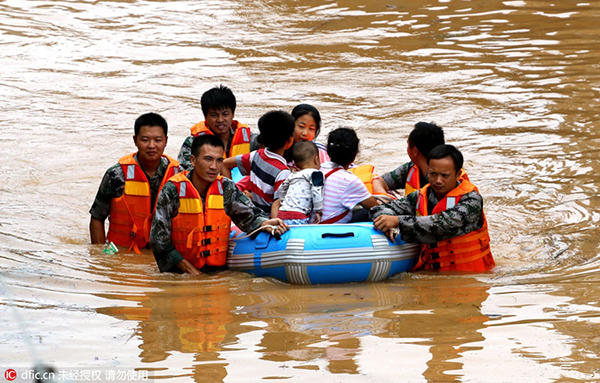 Armed police rescue residents in Xiaxi village, Yutian town in South China's Jiangxi province on July 18, 2016.[Photo/IC]
BEIJING - Severe flooding across large parts of the country has raised fresh concerns about food safety.
Since the rainy season began in early June, millions of domestic animals have been washed away in flooding, authorities said.
In Anhui Province, one of the worst-hit areas, about 80,000 pigs and more than 12 million chickens and ducks were carried off by floodwaters.
In Hubei Province, more than 80,000 pigs and over 3.6 million chickens and ducks died, while in Jiangxi Province, about 5.2 million chickens and ducks were lost.
Many are worried that the meat might find its way to markets around the country.
China's food safety credentials took a hit when high-profile food scandals shook consumer confidence, particularly in 2008 when melamine-tainted baby formula caused at least six infant deaths and made a further 300,000 ill.
In recent years, public anger has mounted over reports that illicit pork has found its way on to Chinese dinner tables. Illegal vendors reportedly salvage dead animals from rivers or lakes, before processing and selling the meat. Last year, police in southern China's Guangdong Province dealt with a case in which suspects sold more than 3,500 kg of tainted pork each day, according to the provincial public security bureau.
"There are floods everywhere, and I'm worried that I might accidently eat meat from drowned pigs or chickens," said Mao Xiaoli, a resident in Xinjian County, Jiangxi.
Some regions have properly handled the dead animals. In Xiushui County, Jiangxi, farmers buried pigs killed in recent floods.
"As required, the pigs were buried at least two meters deep. We used three giant excavators to dig the holes," said Zheng Guangcai, head of local veterinary services.
Others appeared more casual about carcass disposal. In Anqing city, Anhui, the head of a local farming cooperative said that about 2,000 drowned ducks were simply "thrown away."
"There are too many and it is impossible to handle them all properly," he said.
In Xuancheng City, Anhui, floods killed or washed away more than five million chickens and ducks.
"About 60,000 ducks in our village were washed away this year, and we still have not found them," said Hu Yiqun, a village leader in Xuancheng's Huaining County.
Last week, Anhui government issued a notice demanding supervisors prevent such meat from reaching the dinner table.
An Anhui government official said that illegal meat processing is difficult to spot because "there are too many places to check in a vast area."
"Some illegal processors just salvage the dead animals from the water and sell them direct to consumers," he said. "Some use the meat to make products like sausages."
Zhu Liangqiang, head of Anhui Provincial Center for Animal Disease Control and Prevention, said that it was essential for the government to prevent any illegal meat from entering the market by strict supervision of transportation, processing and sourcing of animals.
"Only with tight supervision can we guarantee food safety," he said.