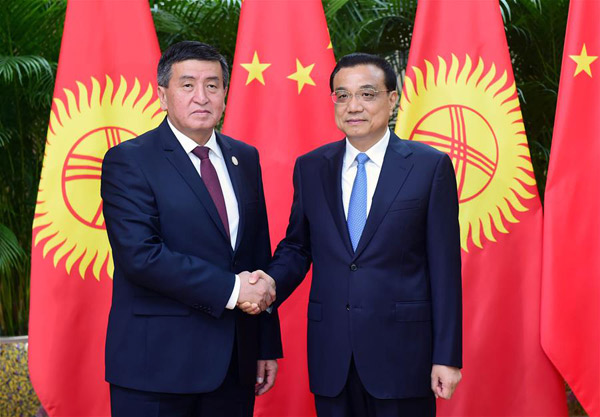 Chinese Premier Li Keqiang (R) holds talks with Kyrgyz Prime Minister Sooronbai Zheenbekov, who is here to attend the Annual Meeting of the New Champions 2016, or Summer Davos Forum, in Tianjin, north China, June 27, 2016. [Photo/Xinhua]
TIANJIN -- Premier Li Keqiang on Monday called for enhanced cooperation with Kyrgyzstan in areas including the economy, infrastructure and international organization.
Li's pledge came during talks with Kyrgyz Prime Minister Sooronbai Zheenbekov in northern China's port city of Tianjin on the sidelines of the Annual Meeting of the New Champions 2016, also known as the Summer Davos Forum.
Stressing that China and Kyrgyzstan have highly complementary economies, Li said bilateral cooperation has great potential and broad prospects.
He called on both sides to increase cooperation and optimize trade structure.
"China is willing to enhance production capacity and investment cooperation with Kyrgyzstan," Li told Zheenbekov.
He encouraged the two countries to push forward infrastructure construction projects such as the China-Kyrgyzstan-Uzbekistan railway project, urban road networks in Bishkek, and the China-Central Asia natural gas pipeline D Line, and expand advanced agricultural cooperation and personnel exchanges.
The two countries should also deepen law-enforcement and security cooperation and people-to-people exchanges in fields such as tourism, education, Chinese language, archaeology and youth exchanges to enhance mutual understanding and cement traditional friendship, Li said.
Hailing the sound development of bilateral ties, Li called China and Kyrgyzstan "good neighbors and strategic partners."
The Chinese and Kyrgyz presidents met on the sidelines of the Shanghai Cooperation Organization (SCO) summit in the Uzbek capital Tashkent last week.
China firmly supports Kyrgyzstan in choosing its own development path, said Li, adding that China is willing to work with Kyrgyzstan to forge ahead bilateral cooperation and jointly safeguard regional peace and stability.