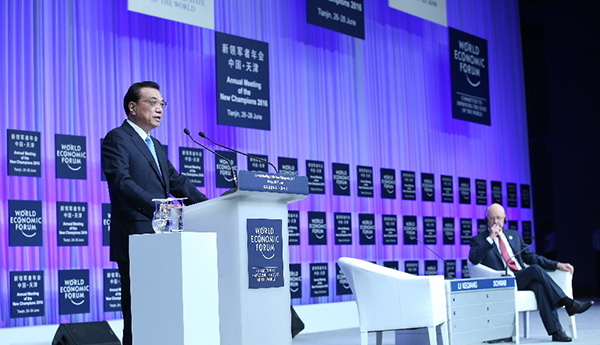 Premier Li Keqiang delivers a keynote speech at the opening of the annual Meeting of the New Champions in Tianjin on June 27, 2016. [Feng Yongbin / chinadaily.com.cn]
Chinese Premier Li Keqiang made proposals on promoting the stable recovery of the world economy at the Annual Meeting of the New Champions 2016, or the Summer Davos Forum, in Tianjin, North China, on Monday.
The Premier says it is imperative to actively carry out structural reform and speed up economic transformation and upgrading.
He called for strengthened efforts in demand management and structural reform to eliminate the root causes of deep-seated problems in the world economy.
Efforts should be made to advance fiscal and financial reform, relax regulatory restrictions, promote competition, and support innovation to promote the robust, sustainable and balanced development of the world economy, he said.
"For the world economy to walk out of its woes, the ultimate solution lies in transforming the growth pattern and replacing old drivers with new drivers," Li added, urging all countries to seize the opportunities provided by the new industrial, scientific and technological revolution.
"The stable recovery of the world economy cannot be achieved without efficient and orderly global governance," he said.
Various countries must adopt growth-friendly policies, strengthen macro-policy coordination, advance trade and investment liberalization and facilitation and work together to build a fairer, more just and open international economic system, he said.