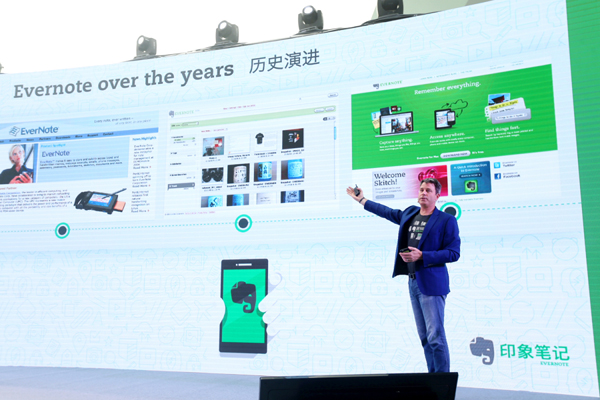 Chris O'Neill, chief executive of Evernote, introduces the company's development. [Photo/chinadaily.com.cn]
Evernote, one of the most popular note-taking applications, aims to grow China into its largest market in the world within three years, according to the US-based company's senior executives.
During an event celebrating the company's fourth year anniversary after entering the China market, its chief executive Chris O'Neill said the company would launch more features to unlock China's professional and cooperative market potential.
According to O'Neill, the upgraded features mean the app will not only help individual knowledge workers to better tackle the information overload in their lives, but also allow teams to use the app collaboratively to complete projects.
The company has inked a strategic partnership with New Oriental Education & Technology Group Inc, a major provider of private educational services in China, to tap into the country's education industry. But it didn't reveal detailed cooperation plans.