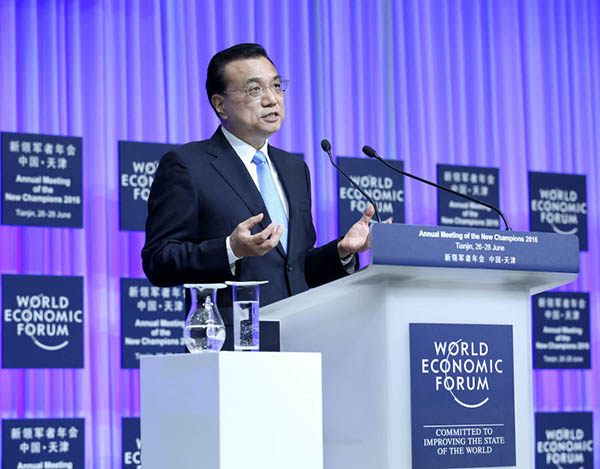 Premier Li Keqiang delivers a keynote speech at the opening of the annual Meeting of the New Champions in Tianjin on June 27, 2016. [Feng Yongbin/chinadaily.com.cn]
"Innovation ideas that we initiated (also) contain the theory and spirit of sharing," said Premier Li Keqiang during the opening of the Annual Meeting of the New Champions in Tianjin on Monday morning.
According to Premier Li, a sharing economy is also an economy that contributes to mass innovation. It is available for every individual to participate in and benefit from, and helps generate a proper pattern for income and its distribution.
Li said that the sharing economy provided equitable competition opportunities for everyone, while also boosting the medium-income group and letting individuals reach their full potential to pursue the value of life.
"The further development of globalization and the popularization of the internet have presented a broad stage and extensive space for people to implementing mass innovation and entrepreneurships," Li said.
"By initiating and promoting the mass entrepreneurship and innovation, the innovative ideas and activities are fused together between big enterprises and startups, online and offline, companies and scientific research institutions, for effectively crowdfunding, crowd innovation and crowdsourcing."