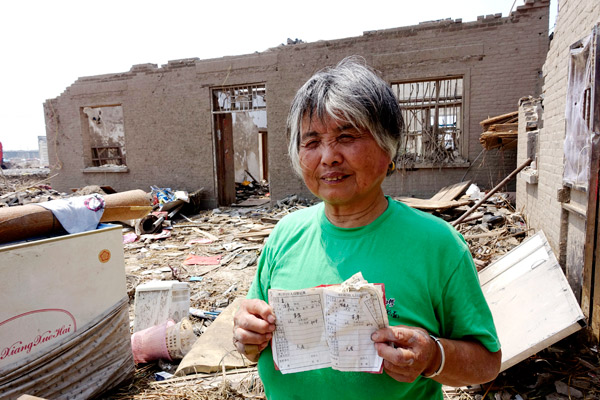 Chen Xiu, 74, shows her residence booklet, which was found amid the debris of her house. She and her husband survived the tornado by huddling in a corner of the house. KUANG LINHUA / CHINA DAILY
The deadly tornado that struck Yancheng, Jiangsu province, on Thursday has hit elderly people in the area especially hard.
The tornado, the worst to hit the province, had left 99 people dead and more than 744 hospitalized as of Sunday, with 20 critically injured, Wu Xiaodan, the deputy mayor of Yancheng, told a news conference on Sunday.
Senior residents in the county bore the brunt of the disaster, with at least 70 percent of those killed being age 60 or above.
"With the tornado striking so quickly, I cannot imagine that elderly people would have been able to react in time to protect themselves," said Liu Yangyang, a 30-year-old resident of Beichen village, who narrowly escaped from the disaster with his wife.
Liu's neighbor, a woman in her 70s, was killed as the tornado struck, and at least 10 other people, most of them seniors, died in the disaster.
Funing county, which is about 370 kilometers north of Shanghai, has been faced with a major problem of young people migrating, leaving an increased elderly population in recent years.
More than 192,000 people, or nearly 18 percent of the population in Funing county, are age 60 or above, higher than the national average of 16.1 percent at the end of last year.
Qi Guolai, who lives in Jiqiao village in Funing, said that at 57 he is now viewed as being young, since most young people have migrated to urban areas, leaving the elderly to tend to farmland and to look after themselves.
"Even if young people do not go to cities for work, they prefer living in urban areas in the county. It is rare to see young people in the village," he said.