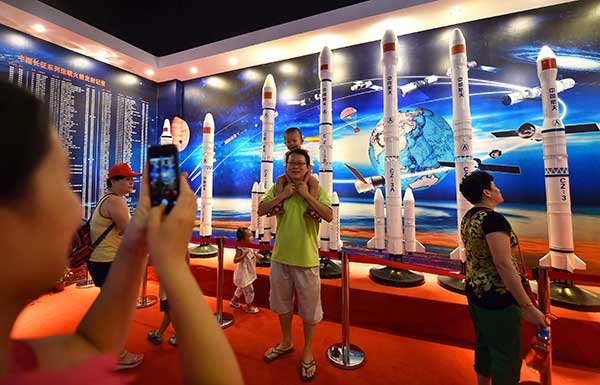 Tourists enjoy the Space and Science Museum in Wenchang, Hainan province, on Sunday. The city is developing its tourism industry around the launch center.[Photo/Xinhua]
Thousands of tourists and space fans flocked to northeast Hainan province on Saturday night to witness the successful maiden launch of the Long March 7 carrier rocket.
It lifted off at 8 pm from Wenchang Space Launch Center, which has become the driving force for development in Wenchang city since construction began in 2009.
Luneng Group, a wholly owned subsidiary of State Grid Corp involved in clean energy and real estate, is one of the companies to see the city's potential. It plans billions of yuan in investment.
The projects currently under construction include three world-class theme parks, a 500,000-square-meter commercial complex, a 70,000 sq m shopping street, 11 museums and 26 hotels.
International hotel brands that have been drawn to the city include Hilton Hotels & Resorts, with the Wenchang Hilton opening last year following three years of construction, while AccorHotels' Wenchang Pullman is scheduled to open its doors next year.
The investment has brought a plethora of job opportunities to local farmers like Yang Songru, a resident of nearby Longlou town, where the launch center is located.
"The launch center in our town attracted many big enterprises, driving up local employment. It wouldn't be possible for us to get jobs in our hometown without it," Yang said.
Chen Xiaobo, the Party secretary of Wenchang, vowed to capitalize on all the advantages that having a launch center brings to develop the city.
In recent years, Wenchang has invested billions of yuan to improve its road infrastructure, water and power supplies and sewage disposal systems.
He Qiongmei, the mayor of Wenchang, said development of the launch center and associated industries had brought the city a promising future.
"With the launch center, Wenchang now has a superior, developing space industry, and we are going to build our agricultural brand based on the achievements we have made. " said He, comparing the city to Houston, Texas, in the United States, which is popular with tourists and space enthusiasts.
"We are even better than Houston in terms of natural scenery, such as the coconut trees, sea breezes and our long stretch of shoreline. Space tourism will add charm to Wenchang, and attract more tourists."
The local government is planning to nurture a space science and technology industry to drive forward economic development, He added.
Wenchang Space Science Center, a 47,000 square meter tourist facility at the launch center, hopes to attract visitors by giving them a closer look at the space launch tower, command center and space vehicle assembly area.
Elsewhere on the island, a spaceflight theme park consisting of four themed Earth, sun, moon and Mars zones is planned, integrating academic exchange, science education, space tourism and commercial use.
Last year, Wenchang received about 1.73 million domestic and overseas tourists, bringing the city about 1.2 billion yuan ($179 million) in revenue. Those numbers are expected to increase this year.