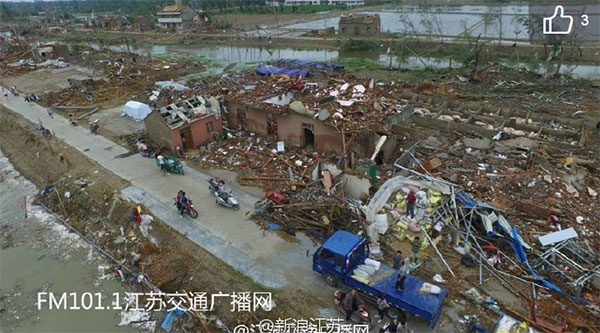 Downpours, hailstorms and a tornado battered parts of Yancheng City at 2:30 pm Thursday. [Photo/Weibo]
China lacks the ability to monitor and forecast a tornado, the national weather forecaster said this morning.
The National Meteorological Center (NMC) said that around the world only the United States and Canada issue tornado alarms, about a couple of minutes ahead of one striking.
The NMC also said that preliminary findings show that the large number of casualties was caused by Thursday's tornado that hit Yancheng in coastal Jiangsu province. By this morning, 98 people had been killed and around 800 injured in the extreme weather.
NMC said it needed further field investigation and analysis to confirm it.
Extreme weather conditions, including thunder, lightning, rainstorms and hailstorms, struck townships in Funing and Sheyang counties in the suburbs of Yancheng city Thursday afternoon. Homes were flattened and villages were leveled and survivors said it felt like the end of the world.
Rainfall receded on Thursday night and was expected continue to weaken on Friday. The area forecast for this afternoon to Saturday calls for cloudy skies, according to the NMC.