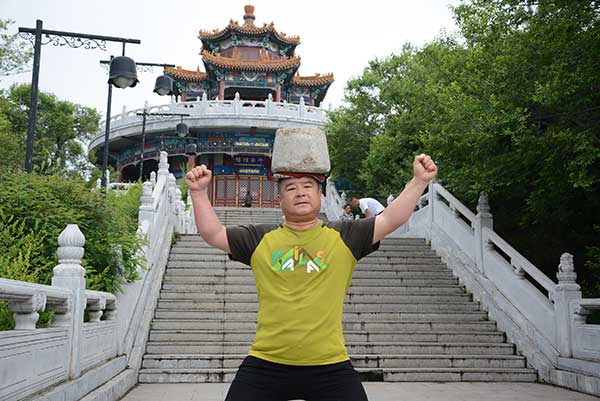 Cong Yan poses with 40kg stone on his head in Northeast China's Jilin province. [Photo/VCG]
A man was spotted with a block of stone on his head at a park in Northeast China's Jilin city, Jilin province, on Wednesday, dawww.com reported.
Three years ago, Cong Yan, who is 1.63 meters tall, weighed 115 kilograms. Afraid about obesity affecting his health, the 54-year-old Cong decided to lose weight.
At first he placed a 30-kilogram stone on his head and then a 40kg block and began walking 3,000 meters. "I didn't want to take diet pills, so I decided to lose weight by doing more exercises," Cong said.
Now Cong can easily walk the whole distance while balancing the 40kg stone on his head. His weight has come down to 85kg and his health is in a better shape, he said.
Besides balancing the stone on his head, Cong has also created a unique system of daily exercise: practice two sets of martial arts, balance the stone on the head and circle around the bell tower in the park 22 times, then climb 50 steps up and down six times.
Cong said he wants his exercise to feature in the Guinness World Records.