Launch is the first staged at Hainan's Wenchang facility
The introduction of the new Long March 7 carrier rocket takes China closer to its goal of building a manned space station, according to the nation's top rocket designers.
Zhang Tao, deputy director of the Long March 7 project at the China Academy of Launch Vehicle Technology, said the rocket will be used to transport cargo and manned craft to China's proposed space station.
"Long March 7 will replace most of our current rockets and will be developed into a large family of next-generation, medium-size carrier rockets," he said. "The series will play an important role in our manned space program and commercial launch services."
The rocket took off on its maiden flight on Saturday night from the Wenchang Space Launch Center in Hainan province. It was the facility's debut launch.
As part of China's manned space program, a Long March 2F rocket is scheduled to send the Tiangong 2 space laboratory into orbit in mid-September. The manned Shenzhou XI craft will then be launched in mid-October to transport two male astronauts into space for a monthlong mission.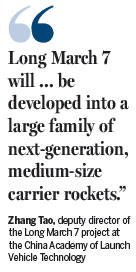 In April next year, a Long March 7 is expected to transport the Tianzhou 1 cargo spacecraft to dock with Tiangong 2. The cargo ship will bring fresh supplies of fuel and other materials, and test in-orbit replenishment technologies for the manned space station that China plans to build around 2022, according to the China Manned Space Agency.
Propelled by pollution-free fuel, the Long March 7 can carry payloads totaling 13.5 metric tons into a low Earth orbit and 5.5 tons into the Sun-synchronous orbit.
With a takeoff weight of 597 tons, it is the most powerful rocket in China's launch vehicle family, with a payload capacity that is about 1.5 times larger than the Long March 2F.
However, the new rocket will not hold the crown for long. This year, the Long March 5, with a takeoff weight of 869 tons, will take its maiden flight from the Wenchang center. It can lift a 25-ton payload into a low Earth orbit or a 14-ton payload into the geosynchronous transfer orbit.
The Long March 5 will be tasked with launching China's heavyweight spacecraft, including the Chang'e 5 lunar probe, the core module of the space station and Mars probes, according to Yang Baohua, deputy general manager of China Aerospace Science and Technology Corp, which runs Zhang's academy and undertakes all of the nation's manned space projects.
The company has also begun to develop a super-heavy rocket that will have a takeoff weight of 3,000 tons and can take a 100-ton payload into a low Earth orbit, he said, with the rocket two times taller and seven times more powerful than the Long March 7.
If research and development goes well, the rocket will carry out its first flight around 2030 and will enable China to land astronauts on the moon as well as send and retrieve Mars probes, he added.
zhaolei@chinadaily.com.cn