Joint boost pledged for world peace
By LI XIAOKUN ( China Daily )
Updated: 2016-06-27 03:40:13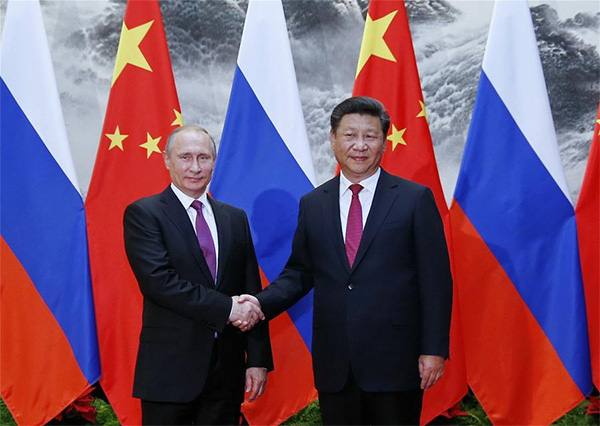 Chinese President Xi Jinping (R) shakes hands with Russian President Vladimir Putin at the Great Hall of the People in Beijing, capital of China, June 25, 2016.[Photo/Xinhua]
China and Russia promise to strengthen ties as Vladimir Putin visits Beijing
China and Russia have promised ever-closer ties and vowed to join hands in promoting global stability.
The pledge was made on Saturday during Russian President Vladimir Putin's fourth visit to China since President Xi Jinping took office in 2013.
The two leaders signed a joint statement aimed at strengthening global strategic stability after their meeting at the Great Hall of the People.
The statement called on nations worldwide to strictly abide by international law, to keep military capabilities at the minimum level required for national security and to refrain from expanding military-political alliances.
It criticized the deployment of anti-missile systems in Europe and Asia, saying those who deploy them often act under false pretenses.
A statement was also signed to promote the development of information and cyberspace, while the countries' foreign ministers signed a statement to promote international law.
Xi said at the meeting that the two countries should strengthen political trust and jointly safeguard regional security.
Putin said at a news conference, "Russia and China stick to points of view that are very close to each other or are almost the same in the international arena."
He said discussions included the nuclear issue on the Korean Peninsula and stability in the South China Sea.
The two countries signed more than 30 cooperation deals in areas such as trade, infrastructure, foreign affairs, technology and innovation, agriculture, finance, energy, sports and the media.
In one of them, Russian oil giant Rosneft signed a deal with China Petrochemical Corp on developing a gas processing and petrochemical plant in East Siberia.
Putin also said 58 different deals worth about $50 billion in total are under discussion, adding that the two countries will seek to secure an agreement this year on building a high-speed rail line in Russia.
Putin met Premier Li Keqiang earlier in the day.
Jiang Yi, a researcher of Russian studies at the Chinese Academy of Social Sciences, said three Chinese vice-premiers and four from Russia attended the meeting.
"It's a rare arrangement. We can see the comprehensiveness of the China-Russia ties, as the vice-premiers are in charge of different areas."

We will not give up search, Li vows
International hunt for missing airliner continues after fruitless six-day search