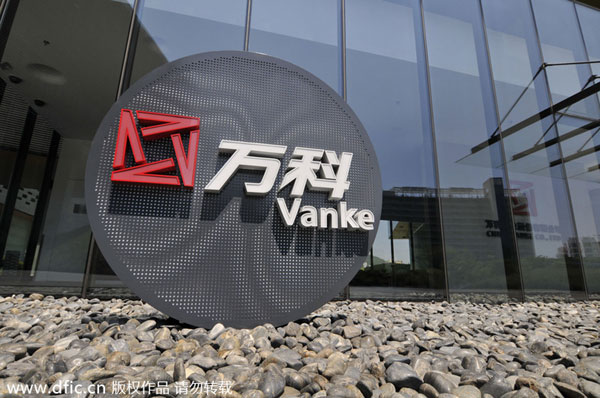 View of the headquarters of China Vanke Co Ltd in Shenzhen city, South China's Guangdong province. [Photo/IC]
China Vanke Co, the developer whose $6.9 billion stock sale to a Shenzhen subway operator has drawn opposition from its two major shareholders, said completing the deal is a "life-or-death" matter as it seeks new ways to expand amid surging land costs.
"For our firm, the deal is not like icing on a cake, it's a crucial matter for our future," Vanke senior Vice-President Tan Huajie told investors, according to a recording obtained by Bloomberg News. "If we fail, we are left in an inferior position with respect to our competition."
The proposed transaction would make State-owned Shenzhen Metro Group Vanke's largest shareholder, and in return the developer will get assets it plans to use for property projects.
Vanke's plan has been thrown into doubt, with its biggest stakeholder, Baoneng Group, on Friday joining the second-biggest, China Resources (Holdings) Co, to say it opposes the proposal to buy assets by issuing new shares and would vote against it at a shareholder meeting. Together, units of Baoneng and China Resources own close to 45 percent of Vanke's A shares.
The China Securities Regulatory Commission said it will look further into the Vanke case.
Shenzhen Jushenghua Co and Foresea Life Insurance Co, units of little-known Baoneng, said in a statement the deal would dilute the interests of existing shareholders. Vanke's board isn't representing holders' interests in a balanced way and the company is controlled by "insiders", the two units said in the statement.
China Resources, which has said it will vote against the deal and challenged a board decision to approve it, reiterated on Friday that it opposes Vanke's plan to buy assets from Shenzhen Metro, while supporting its business cooperation with the subway operator.