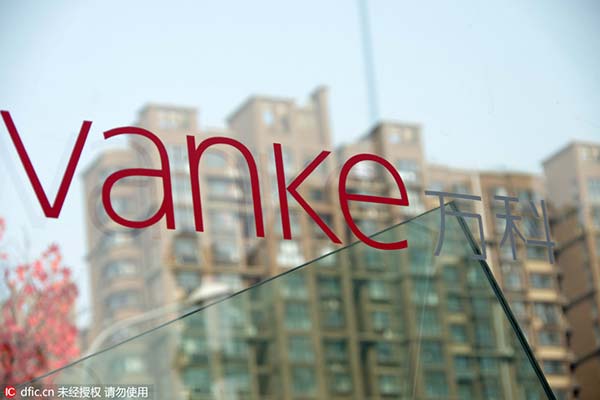 An apartment building is reflected on glass at the sales center of a residential property project in Jinan city, east China's Shandong province, February 10, 2016.[Photo/IC]
Uncertainties remain on China Vanke Chairman Wang Shi's bid to retain management control after the property giant's second-largest shareholder China Resources said it was strongly opposed to fending off an unwanted takeover through new-share issuance.
Vanke's 45.6 billion yuan ($6.93 billion) plan to acquire a unit of Shenzhen Metro by issuing new shares didn't pass the board because it failed to obtain approval from two-thirds, or eight of the 11 members, China Resources said in a statement on its official WeChat account on Saturday.
The statement contradicted with one that Vanke released on Friday, where the board endorsed the proposal in a 7-to-3 vote after one director chose to abstain, citing a conflict of interest.
All three directors representing China Resources voted against the deal on Friday, one that would make Shenzhen Metro Vanke's largest shareholder and enable the management to fend off the hostile takeover by Baoneng Group.
"The acquisition and share-sale proposal is not in line with shareholders' interest," China Resources said in the statement, adding that Vanke has a low debt burden and can use either cash or debt to finance the deal, and the proposed price of 15.88 yuan per share implies a discount of 24 percent to Vanke's net asset.
"If Vanke doesn't reconsider the problems in the restructuring proposal and submits it again to the board or shareholder meetings, China Resources would continue to vote against it in order to protect the interests of all shareholders," it said.
The opposition adds more uncertainty to the high-profile control tussle since Shenzhen-based Baoneng Group became Vanke's largest shareholder last year through leveraged buying.
Shenzhen Metro came to the management's "recue", announced Vanke in March, as the subway operator would hold a 20.65 percent stake in the company in exchange for assets injection, surpassing Baoneng's 19.27 percent after dilution.
The proposal is still pending for approval from the Shenzhen Stock Exchange and shareholders' meeting.