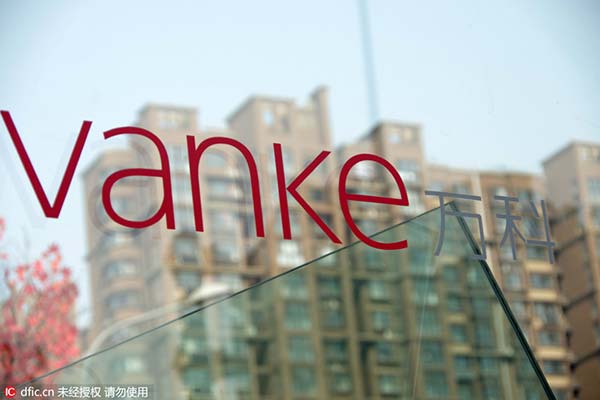 An apartment building is reflected on glass at the sales center of a residential property project in Jinan city, east China's Shandong province, February 10, 2016.[Photo/IC]
SHENZHEN - Vanke's shareholders voted on Thursday to approve the Chinese property developer's plan to extend its share suspension to June 18 amid an ongoing asset-restructuring program to counter a potential hostile takeover.
Vanke, dual listed in Shenzhen and Hong Kong, has been seeking other investors to increase its stakes after Shenzhen-based conglomerate Baoneng began steadily increasing its holdings in the firm in July last year.
Baoneng is Vanke's largest shareholder, with a 24.26 percent stake as of Dec 18 last year. It voted in favor of Vanke's plan to extend the share suspension on Thursday.
On Sunday, Vanke announced it would buy assets from Shenzhen Metro Group Co Ltd. The transaction, estimated to be between 40 billion yuan ($6.19 billion) to 60 billion yuan, will be mostly funded through a private placement by Vanke.
Vanke said on Thursday that the company still cannot disclose its major-asset restructuring plan before Friday and, therefore, need to extend the share suspension to ensure orderly process for restructuring and avoid share price volatility.