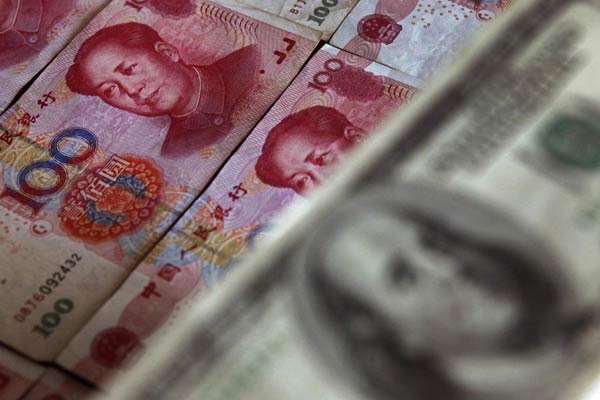 A photo illustration shows a $100 banknote placed above Chinese 100 yuan banknotes in Beijing in this May 10, 2013 file photo. [Photo/Agencies]
BEIJING - The onshore yuan advanced to its strongest level since December on Friday after China's central bank raised the daily reference rate by the most in four months.
The People's Bank of China on Friday raised the yuan's central parity rate, which restricts onshore moves to 2 percent on either side, by 0.51 percent to 6.4628, the highest level in three months.
The onshore yuan climbed to 6.4625 to the dollar as of 9:40 am in Shanghai, up 214 basis points from Thursday's close, according to China Foreign Exchange Trade System prices. The offshore yuan gained more than 200 basis points to 6.4443 a dollar.
The hike in the yuan's exchange rate came after the US Federal Reserve kept its benchmark short-term interest rates unchanged and reduced the number of expected rate hikes this year, which triggered a slump in the US dollar.
The yuan weakened against the dollar by 4.7 percent in 2015. However, Chinese authorities have repeatedly denied that there is any basis for continued weakness of the Chinese currency.
Central bank governor Zhou Xiaochuan said earlier this month that the yuan had started to return to "a normal and reasonable level" after volatility.