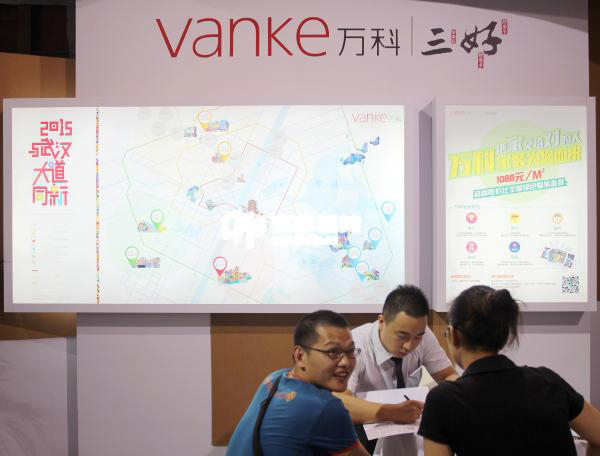 A China Vanke Co Ltd stand at a property fair in Wuhan, Hubei province.
Leading property developer China Vanke Co Ltd is positively bringing in strategic partners and undertaking personnel changes to participate in urban rail construction and explore new business opportunities, experts said.
Vanke signed a memorandum of understanding with Shenzhen Metro Group Co to acquire a stake in a unit of the urban rail transit company for an estimated 40 billion yuan ($6.16 billion) to 60 billion yuan, the firm said in a statement to the Shenzhen Stock Exchange on Sunday.
Vanke plans to fund the acquisition mainly by selling new shares to Shenzhen Metro, and pay cash to make up for a potential shortfall.
The size of the share sale and the stake to be acquired have yet to be decided, with no formal or binding agreement signed, China Business News reported.
"Bringing in strategic partner Shenzhen Metro Group Co can help China Vanke Co Ltd obtain more land in Shenzhen and participate in constructing Shenzhen's city circle based on rail transit," said Zhu Jin, chief property analyst at Orient Securities Co Ltd.
Zhu said the urbanization of Chinese first-tier cites such as Shenzhen has entered a new stage and rail transit will play an important role in the new city circle. Vanke can join hands with Shenzhen Metro to develop commercial properties along the metro lines in the city.
Vanke's plan to buy assets from Shenzhen's urban rail operator is also a move to fend off unwelcome suitor Baoneng Group and make its equity more diversified.
Little-known Baoneng emerged as Vanke's largest shareholder in December. The developer's management questioned the credibility of Baoneng and labeled its approach a "hostile takeover".
Vanke also announced several personnel changes, according to its statement on Sunday. The firm's board secretary Tan Huajie would serve as senior vice-president in charge of studying and carrying out new businesses and models. Zhu Xu will become the new board secretary in Vanke, after resigning on March 5 from his last employer Grandland Decoration, a listed construction company.
"Mr. Tan has strong research capabilities, and his new appointment also shows Vanke's focus on new business exploration," said Zhu Jin.
Pu Dongjun, an analyst at Chang Jiang Securities Co, said Vanke pays attention to business transformation and innovation.
Vanke's net profit reached 18.12 billion yuan in 2015, increasing 15.8 percent year-on-year, according to its annual report published on Monday. It posted sales revenue of 195.55 billion yuan in 2015, up 33.58 percent year-on-year.
The company's Hong Kong-traded shares jumped 10 percent to close at HK$20.15 ($2.59) on Monday, the biggest increase since January 2015. Vanke's Shenzhen-traded shares have been suspended from Dec 19 last year.
Jing Shuiyu contributed to this story.