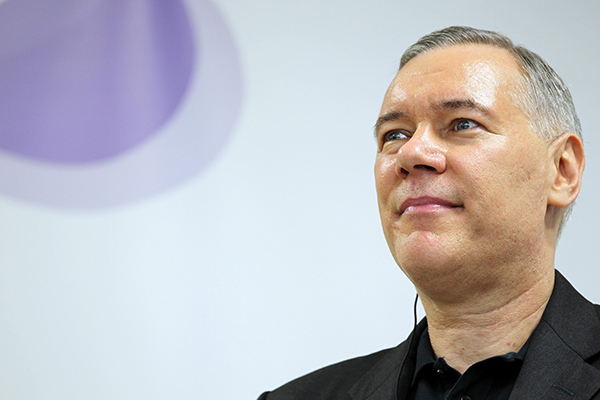 Gary Dickerson, CEO of Applied Materials Inc. [Photo/CFP]
Applied Materials Inc, world's largest semiconductor materials engineering solutions provider, is planning to expand in the China market through investments and other projects with a combined value of 4 billion yuan ($616 million) in the next few years, said its President and CEO Gary Dickerson.
"China's pro-innovation environment for high-tech industries has given the semiconductor and display industries tremendous opportunities for companies such as Applied Materials," said Dickerson.
Dickerson made the statement in an interview on Monday in Shanghai, adding that he is optimistic about market demand in China for semiconductor and display products as technologies evolve and consumers are trading up amid nationwide trends requiring more products for big data, the Internet of Things, artificial intelligence and virtual reality.
Although the semiconductor industry has been experiencing difficulties in the past year amid slowing growth in demands and shrinking profit margins, Applied Materials is confident that demand will recover and profit margins will expand through a series of changes, including more technologies requiring better memory storage, and industry efforts to further reduce costs, said Dickerson.
In China, Applied Materials is also an unsung hero that supplies chips to many of China's local electronic products, such as the Xiaomi mobile phone.
According to the World Semiconductor Trade Statistics, global sales revenue of semiconductors, a key component for many electronic appliances including smartphone, tablet computer, audio and video appliances and robotics, grew 0.2 percent year-on-year by the end of 2015, which stood at $336 billion.
The WSTS forecasts that growth of the industry may recover to 1.4 percent year-on-year in 2016, and 3.1 percent year-on-year in 2017.
China's market demand for semiconductors has been increasing at a fast pace, as it consumes 50 percent of the world's sensors, 41 percent of the world's simulators, and 40 percent of discrete components.
According to a research report from market research firm IC Insights, market demand for semiconductors has been experiencing significant changes as end consumers are requiring products with uniqueness, and brands and manufacturers of handsets have been developing their own chips to meet the demand, which requires semiconductor suppliers to rethink their strategies.
Market experts said that China is playing a role in the semiconductor industry that is different from a decade ago.
Shanghai-based semiconductor expert Mo Dakang said that China is now not only one of the largest consumers but also one of the biggest producers of semiconductor products.
The world's largest handsets and laptop producers such as Samsung Electronic Co Ltd and Intel Corp are all expanding their capacity in the Chinese mainland through investing in manufacturing lines, according to Mo's latest research note.