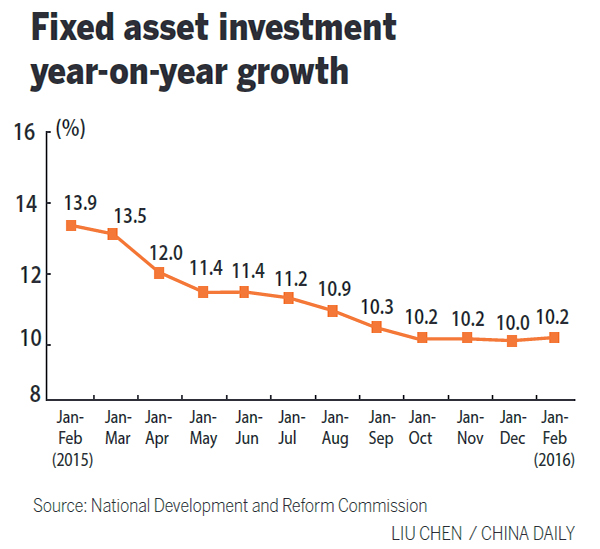 Newly approved projects expected to help ongoing restructuring
China's top economic planner has pledged to increase investment in infrastructure and public services, following a mild recovery in fixed assets investment over the first two months of this year.
A total of 15 new fixed asset investment projects worth 34.1 billion yuan ($5.3 billion) have been approved this month, Zhao Chenxin, the spokesman for the National Development and Reform Commission, said on Monday.
"The newly approved projects mainly improve shortcomings amid the economic restructuring process, such as waterworks construction and energy supply," said Zhao at a news conference-echoing comments made earlier by Xu Shaoshi, NDRC minister, at the two sessions.
Government-led investment projects will account for 500 billion yuan this year and play a key role in guiding and attracting the 50 trillion yuan in fixed asset investment that is forecast, Xu said.
Since 2014, the central government has injected more than 5.3 trillion yuan into programs for industrial and public service development.
By the end of January this year, 1.59 trillion yuan had been spent on information and energy networks alone, while 1.22 trillion yuan was spent on transportation systems, according to NDRC.
Official data show that fixed asset investment in the first two months of this year increased by 10.2 percent year-on-year, up from the 8.2 percent growth rate recorded in December.
Even though the recovery is largely driven by real estate, which saw 3 percent year-on-year growth, the sector lacks a strong foundation due to its high inventory and the increased cost of development, according to Li Jiao, an analyst at the National Bureau of Statistics.
Niu Li, director of macro-economics at the State Information Center, said downward pressures on the real estate and manufacturing sectors, which are among China's key drivers for GDP growth, meant they were unlikely to see a major recovery in the near future.
Infrastructure construction projects-which are mainly government-led and represent around 15 percent of the nation's fixed-asset investments-will be one reliable economic driver in the future, as they provide incentives for local governments seeking returns in the short-term and will benefit the economy in the long run, Niu said.
Hao Yisheng, an economics professor with China University of Political Science and Law, said government investment in fixed asset projects is essential to maintain economic growth within a reasonable range.