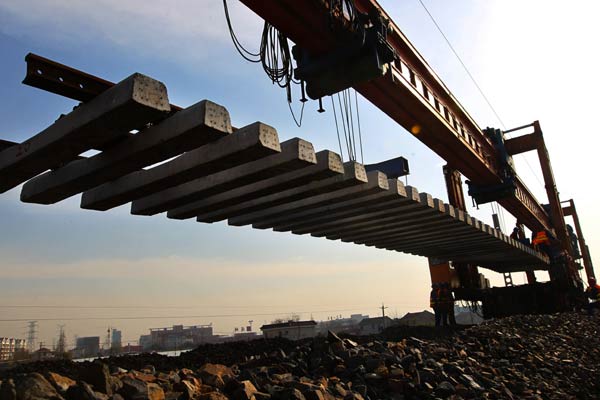 Rail tracks are laid on a route in Nantong, Jiangsu province.  [Photo provided to China Daily]
BEIJING - China introduced new measures on Tuesday to encourage private investment in infrastructure and public services.
Private investment in areas such as transportation, energy, water and environmental protection can improve public services, said a statement released after a State Council executive meeting presided over by Premier Li Keqiang.
Through open competition, domestic and overseas legal persons and organizations are all entitled to establish a presence in these areas and make a profit.
The government will offer subsidies and streamline approval procedures. Financial institutions will offer loans of up to 30 years.
Investors will be allowed to access financing on the basis of accounts payable from their projects. They can explore other financing options such as private equity and enterprise bonds.
The government will work to attract private investment by protecting investors' interests and ensuring market returns remain stable.
The State Council also vowed to streamline administration by cleaning up intermediaries that hinder rather than help enterprises' operations.