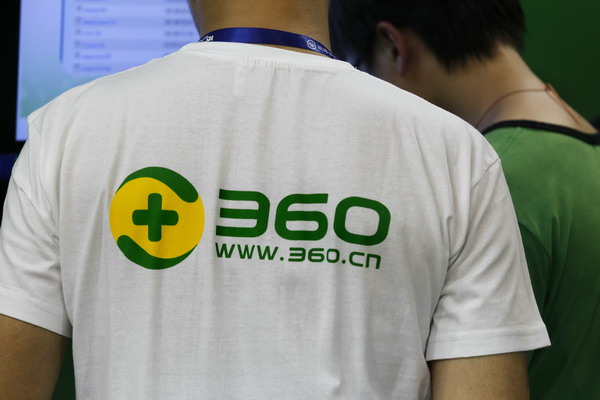 Qihoo 360's logo is displayed on one of its employee's T-shirt.[Da Wei/Asianewsphoto]
Qihoo 360 president on measures needed against cyber threat
China is home to the world's largest Internet population. According to China Internet Network Information Center, the country had 649 million Internet users by the end of 2014.
Kitty Fok, manager of IDC China, said increased data security awareness among top political leaders and State-owned enterprises following the revelation of NSA's Prism surveillance program by Edward Snowden have greatly boosted the use of local providers.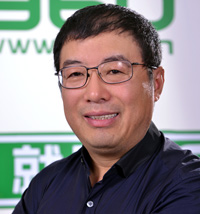 Qi Xiangdong, president of Qihoo 360 [Photo provided to chinadaily.com.cn]
"The government should encourage players from the local market, especially private companies, who are actively participating in the cyber security field, to take part in the development of national information security," said Chen Jianguo, a member of the CPPCC National Committee.
"The technologies of some big firms have undergone large-scale testing in the market, and their approach is more feasible than the results coming from the laboratories of universities or research institutions," Chen added.
In October 2014, Qi Xiangdong, president of Qihoo 360, along with several Web security specialists, appealed to China's legislature to put personal information protection law on its agenda. Such a law should clarify what kind of online data should be protected, as well as the obligations of big data companies to boost the industry's self-discipline.
During a plenary meeting of the National People's Congress annual session this year, National security law, anti-terrorism law and cyber security law have all been placed on the scheduled of legislation plan, according to China's top legislator Zhang Dejiang.
To talk about these and other issues, chinadaily.com.cn sat down with Qihoo 360's Qi for an exclusive interview during the two sessions. Here are the excerpts:
Some of the world's big enterprises in various sectors, such as American Airlines, Sony Corp and Lenovo Group Ltd, have been hacked in the past few months. Online security has become one of the top priorities for companies. What are your suggestions to companies investing in protecting cyber security? And what's your advice on upgrading companies own defense systems?
"Nowadays, the social assets and corporates' assets have all been digitized. Network security is bound to attract every CEO's concern, and some are even personally involved in this 'number one project'."
"To protect corporate information assets, first of all, make the daily management and control of security vulnerabilities a must, the rules and regulations for information safety should be strictly enforced; second, enterprises should pay attention to data leak prevention, especially for employee-initiated APT attacks; third, the company should establish emergency response and handling mechanism for information security; and fourth, strengthen access to various security and intelligence information and timely sharing."
In terms of cyber security, in which aspects and areas has Qihoo 360 developed cooperation with the Chinese government?
"Qihoo 360 has always been a national security emergency service support unit for the National Computer Network Emergency Response Technical Team/Coordination Center of China (CNCERT/CC)."
"Since 2012, the company has set up enterprise-level security business, and provided security products and services to more than one million government and enterprise customers, such as Ministry of Commerce, Ministry of Water Resources, Ministry of Science and Technology, State Administration of Taxation and other governmental authorities."