Curbs on foreign investment cut for four FTZs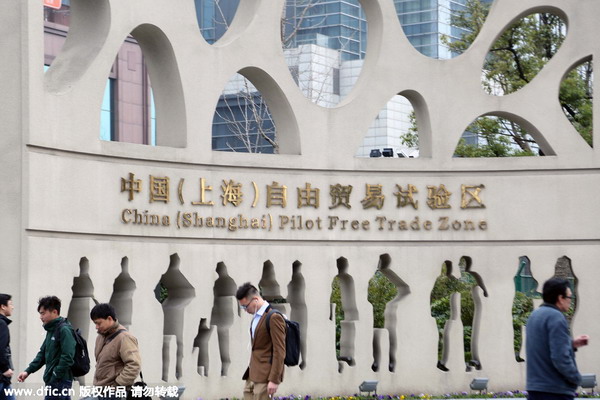 Pedestrians walk past a signboard of the China (Shanghai) Pilot Free Trade Zone in Pudong, Shanghai, March 18, 2015.[Photo / IC]
China has cut the number of restrictions on foreign investment for new pilot free trade zones in Tianjin, Guangdong and Fujian and also for the zone in Shanghai.
Assistant Commerce Minister Wang Shouwen said on Monday all such zones will implement a unified and friendlier business environment for foreign investment.
To increase transparency, the central government has made public a "negative list" of foreign investment applicable to the four zones. For the Shanghai zone, the number of restricted items on the list has been cut to 122 from 139 last year.
A master plan has been unveiled for the zones in Tianjin, Guangdong and Fujian and the development plan for the Shanghai zone has been upgraded to create a wider platform for economic reform and opening-up.
Wang said at a news conference, "The three new zones have duplicated the successful experience of the Shanghai zone."
The central government has also introduced new measures such as an administrative consulting system, the separation of approval power from regulatory power, and the classification of approval for the new zones. Media from Tianjin and Guangdong and Fujian provinces reported that the formal establishment of the three new zones will be announced on Tuesday.
The Tianjin zone will promote inland development through such methods as port cooperation on the basis of coordinated development between Beijing, Tianjin and Hebei.
The Guangdong zone will focus on the industrial shift in the Pan-Pearl River Delta region and inland areas through transforming and upgrading processing industries and comprehensive service zones for regional development.
The Fujian zone will improve economic development on the western side of the Taiwan Straits through industrial integration between the province and Taiwan and new cross-Straits cooperation in the service sector.
The Shanghai zone will target upgraded development of the Yangtze River Economic Belt through a diversified business platform for international trade in the Yangtze River Delta. Its operational area has been increased to 120.72 square km, covering four special customs supervision zones.
Mei Xinyu, a researcher at the Ministry of Commerce's International Trade and Economic Cooperation Institute, said the new zones will be strongly focused and have more local characteristics compared with the one in Shanghai.
"Because such zones have different focuses on enforcing reforms in services, finance, industry, investment and trade, adding more of them can help China to realize its steady growth target under the current global economic situation, "Mei said.
Sang Baichuan, director of the Institute of International Business at the University of International Business and Economics in Beijing, said competition will lead to policy optimization and infrastructure improvement, as well as attracting talent and foreign capital.