HK-Guangdong FTZ: Very much a brotherly affair
Updated: 2015-04-09 07:32
By Zhou Mo in Shenzhen(HK Edition)
| | | | | | | | | |
| --- | --- | --- | --- | --- | --- | --- | --- | --- |
|   | | Print | | Mail | | Large Medium  Small | 分享按钮 | 0 |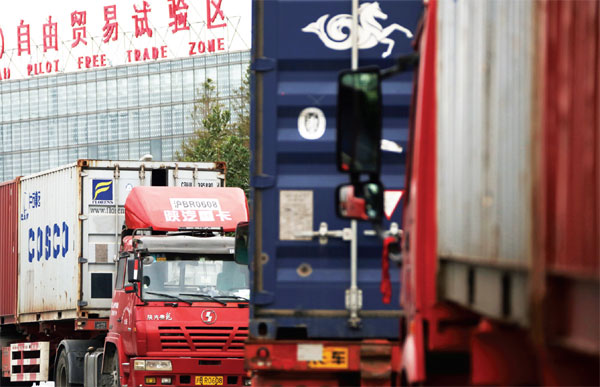 The Guangdong Free Trade Zone will help promote economic integration and create greater business opportunities for Hong Kong entrepreneurs in the long run. Tomohiro Ohsumi / Bloomberg
Editor's note: Academnics have brushed aside apprehension that the new Guangdong Free Trade Zone could undermine Hong Kong's status as the region's key financial and shipping hub. The reasoning is simple - it's not a zero-sum game, all stand to gain as economic integration and exchanges intensify.
The newly established Guangdong Free Trade Zone (FTZ), which strives to be the region's new financial and shipping center, has sparked heated debate over whether it will threaten Hong Kong's competitiveness.
The zone, adjacent to Hong Kong and approved by the central government on March 24 this year, covers a total of five areas in the province - Qianhai and Shekou in Shenzhen; Guangzhou's Baiyun Airport Comprehensive Bonded Zone and Nansha; as well as Zhuhai's Hengqin Island. What's still not known, however, is when exactly it will begin operation.
Public concern over the FTZ's impact on Hong Kong stems from expectations that Qianhai will emerge as a major financial hub offering preferential financial policies and that Nansha will become a shipping center in the region.
However, scholars are not apprehensive, arguing that the FTZ will not undermine the SAR's overall competitiveness, but instead strengthen its advantages.
Mao Yanhua, deputy head of the Free Trade Zone Research Institute at Guangzhou's Sun Yat-sen University, said Hong Kong is an international city and a congregation point for a large talent pool.
"Hong Kong's unique advantages lie in its international links and talents. The setting up of the Guangdong FTZ will not deal a blow to the city's status and competitiveness," Mao said.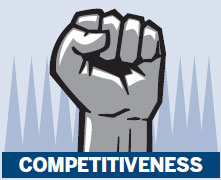 As he sees it, the relationship between the FTZ and Hong Kong is not zero-sum game. Instead, the two can achieve a win-win situation through cooperation and exchanges.
He gave the shipping industry as an example. According to the FTZ's development plan, Guangzhou's Nansha port is expected to be created as a shipping hub. Seemingly, the mainland port may affect Hong Kong's business in the industry. "However, as shipping businesses in the FTZ grow bigger and bigger, relevant industries like arbitration, financing, insurance and leasing will expand respectively. These are exactly Hong Kong's core businesses, which will promote its further development," Mao told China Daily.
Lin Jiang, dean of the Public Finance and Taxation Department at Lingnan University, holds identical views.
"The FTZ is, in fact, a move to create a kind of business environment similar to Hong Kong's through innovation in system and mechanism. It's a 'transplant' of Hong Kong's advantages in system, modern services and 'software' on the mainland. In this sense, Hong Kong's influence will increase through the FTZ," he said.
The benefits for Hong Kong also manifest in other aspects like creating new opportunities for the city's professionals and expanding international markets, Lin said.
"Hong Kong and the mainland, especially Guangdong province, will have the opportunity to expand their global markets jointly under the nation's 'One Belt, One Road' strategy. The FTZ will promote mainland companies' 'going out' and Hong Kong is an important buffer zone and bridgehead in the process," he said.
But, despite expectations of abundant opportunities brought by the FTZ, experts have called for changes to be made.
"The era of 'developing separately' has already passed. The only way now is to participate in regional integration," Mao stressed.
To maintain its own strength and competitiveness, Hong Kong, on one hand, needs to take advantage of its position as an international financial, shipping and trade center to help mainland enterprises "go out", thereby consolidating its own role, Mao pointed out.
On the other, he said, the SAR should further deepen cooperation with Guangdong to cement the Pearl River Delta (PRD) region's special position in the country's open economic system and strive to turn it into a bay economy with international competitiveness.
Mao's points were backed by Lin, who believes that collaboration with Guangdong is the key to Hong Kong's future growth. "Hong Kong could join hands with Guangzhou to co-build a fuel trading center for international ships. In this way, not only could Hong Kong's current position in the area be strengthened, the two could also counter competition from Singapore," Lin suggested.
In the field of finance, talents and the management system of financing leasing could be introduced from Hong Kong to Nansha, Lin added. "The free trade area will, therefore, become a 'laboratory' in which rules are made by Hong Kong, the workforce is from Hong Kong and Nansha, and 'samples' in the 'laboratory' come from small- and medium-sized enterprises in the PRD region. As the number of such 'samples' is quite large, the success rate of financial leasing in the FTZ is expected to be higher," Lin explained.
The Guangdong FTZ was officially approved by the central government in Dec 2014, together with those of Fujian province and Tianjin municipality.
Compared with the other two new FTZs, the Guangdong zone features cooperation with Hong Kong and Macao. It aims to become a new pilot zone of new international investment and trade rules, applying internationally high-standard regulations in areas like overseas investment, trade and intellectual property rights.
Although the Guangdong FTZ has yet to begin operating officially, people with deep knowledge of it are upbeat about its prospects.
"Guangdong's basis in financial services is next to Shanghai's. It also has close links with Hong Kong and Macao. The Guangdong FTZ will have big potential if it positions itself correctly and finds its own concept and management mode," said Chen Bo, a professor of the Shanghai University of Finance and Economics.
Leung Wing-on, president of Wing On CPA & Associates, believes that the Guangdong FTZ will attract a large number of Hong Kong and overseas companies to set up shop there, thereby creating opportunities for the city's professionals.
"Professionals from Hong Kong are more familiar with financial regulations and the financial positions of those companies, while mainland accountants and lawyers have advantages in localization. The two can join hands in serving domestic and overseas enterprises to create a win-win situation," he said.
Zhang Zhanhao, chief partner for southern China region at PricewaterhouseCoopers, offers a bigger picture of the promising prospects.
"The establishment of the Guangdong FTZ will promote economic integration among Guangdong, Hong Kong and Macao. Not only will trade between Guangdong and Hong Kong achieve significant growth, Hong Kong can also bring the advantages of its services industry and professional services to the province and enjoy the benefits of the FTZ's innovative policies of negative list management mode and national treatment," he said.
sally@chinadailyhk.com
(HK Edition 04/09/2015 page9)