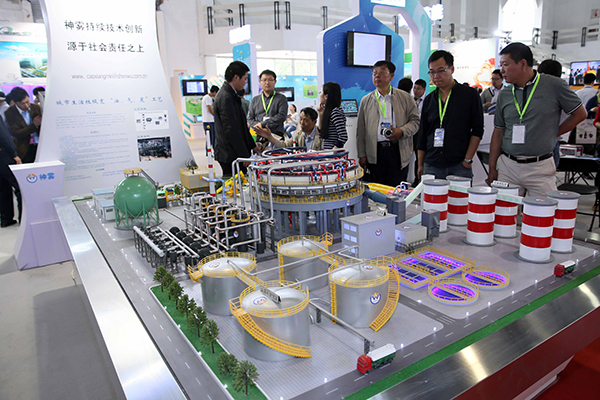 Energy solution equipment developed by Beijing-based Shenwu Environmental Technology Co Ltd on show at an international exhibition in Beijing. [Photo/China Daily]
Shenwu unveils new processing technique to significantly lower emissions
Shenwu Environmental Technology Co Ltd, a Shenzhen Stock Exchange-listed company based in Beijing, has released a new technique in coal processing that the company said will significantly lower the costs and emissions compared with conventional coal gasification.
The new technology separates the volatile matter from the fixed carbon content in coal. The volatile matter will be further decomposed into natural gases, petrol and synthesis gas.
The fixed carbon content will be transformed into calcium carbide and carbonic oxide. The calcium carbide will then react with water to produce acetylene.
China is in bad need of clean-coal technologies to ease its environmental pressure and production overcapacity, according to Wu Daohong, board chairman of Shenwu, the energy solutions company.
"Coal will continue to dominate the country's energy market in the long run," Wu said.
"In 2014, energy consumption per capita in China was 3.1 metric tons of standard coal, lower than half of the level in developed economies. Higher living standards come with higher per capita energy use. A moderately well-off society, which is China's goal by 2020, is normally marked by more than 4 tons of standard coal of per capita energy consumption," said Wu.
In the past 10 years, China has invested 1.56 trillion yuan ($240 billion) in developing clean coal. In the next five years, it is expected to invest another 3 trillion yuan in environmentally friendly coal.
According to statistics provided by Shenwu, the new technology is able to produce three products within one step-synthesis gas, petrol and natural gases-accounting for 24 percent, 38 percent and 38 percent, respectively, of the total final product. The conventional coal gasification, however, only produces synthesis gas. It needs further chemical reaction to produce petrol and natural gases.
With every 1 million tons of olefin, coal gasification requires investment of 28 billion yuan while the new technology only needs 20 billion yuan. The new technology's water consumption is also 50 percent lower than coal gasification. Its carbon dioxide emissions are 37 percent lower.
"China's coal industry has been plagued by large investment, low outcome and high water consumption," said Liu Jun, an energy analyst at Changjiang Securities Co Ltd.
"The current overcapacity in China's coal industry is not overcapacity in its real sense but overflowing low efficiency and high-polluting production capacity. The challenge is not to lower the combustion of coal but increase it while ensuring that the process is clean and efficient," said Liu.