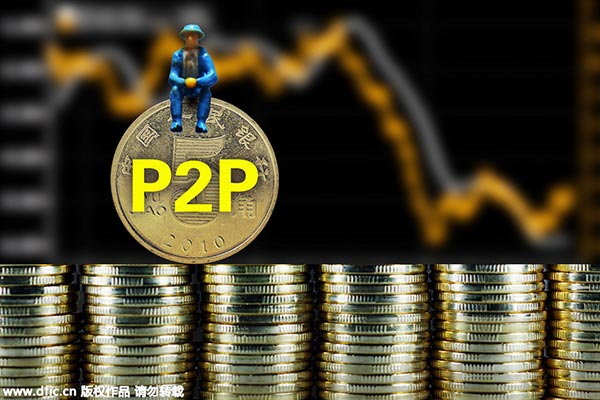 China's top banking regulator has vowed to crack down on illegal fundraising activities by unscrupulous online brokers and warned investors to be wary of their schemes.
Shang Fulin, chairman of the China Banking Regulatory Commission, said at a news conference on Saturday: "The CBRC will strengthen regulation, intensify on-site inspections and step up administrative penalties."
Shang said illegal fundraising cases have become so common and the perpetrators are finding new ways to commit their crimes.
The online peer-to-peer lending broker Ezubao, for instance, has been accused by police of collecting more than 50 billion yuan ($7.7 billion) illegally from about 900,000 nonspecific investors through fake projects.
The company allegedly lured its victims into the scheme under the guise of P2P lending, which is the practice of lending money to individuals or businesses through online services that match lenders directly with borrowers.
"Relevant government departments have put the case on file for investigation. They are seeking asset recovery to recoup as much losses as they can," Shang said.
Caixin Media earlier reported that according to its calculation, the amount of money collected via illegal fundraising reached a staggering 200 billion yuan last year.
By the end of March 2015, investigators had filed 14,000 financial criminal cases, up nearly 38 percent year-on-year, reported the Beijing-based media group specializing in business news.
Shang said: "The CBRC will also step up oversight of P2P lending and launch special projects along with other government departments to address problems arisen from Internet finance."
He reminded investors they have to be extremely cautious about participating in financial investment schemes.
"They should pay special attention to three elements before making investment decisions: First, whether or not a P2P lending platform is raising funds from nonspecific investors. Second, whether or not it has promised to offer abnormally high returns on investment. Third, whether or not it advertises publicly for fundraising," he said.
By the end of February, a total of 2,519 P2P lending platforms operated in the country without any problems, according to wangdaizhijia.com, a Web portal that tracks the industry.