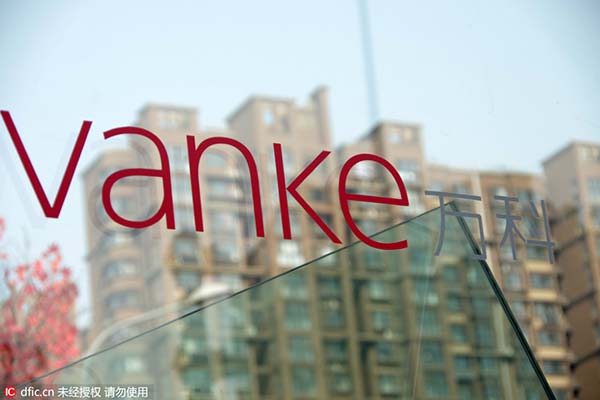 An apartment building is reflected on glass at the sales center of a residential property project in Jinan city, east China's Shandong province, February 10, 2016.[Photo/IC]
Seattle is getting another infusion of Chinese capital.
Real estate developer Vanke, the largest residential builder in China, is entering the market in a partnership to finance a $200 million, 43-story apartment tower three blocks from e-commerce giant Amazon's headquarters.
Vanke will be putting up a "significant" amount of the financing, though the amount is still being discussed and will be finalized next month, said Bob Kagan, senior vice-president of California-based Laconia Development, the partners with Vanke.
The building on what is now a parking lot will have 400 one and two-bedroom units and retail on the ground floor. Construction will start early next year and take approximately a year and a half to complete, according to Kagan.
Kagan said the building's location in Seattle's Belltown area is the city's most densely-populated neighborhood and on the downtown waterfront. "It is a very up-and-coming area - it would be like the Village or something similar in New York," said Kagan.
Another project in Belltown involving Chinese investment is the 41-story Potala Tower, construction of which has stalled because of accusations of fraud and misuse of funds by its developer, Lobsang Dargey. The US Securities and Exchange Commission sued Dargey in August and a judge will decide whether to transfer ownership from Dargey to a Las Vegas developer and Chinese firm that both own partial stakes in the tower.
Chinese investors put $83 million into the project, through the US EB-5 visa program which grants investors a visa in return for a minimum of $500,000 investment into a new or ongoing American business, according to the Seattle Times.
Kagan said that Vanke sees business opportunities in Seattle, where there is a burgeoning tech scene.
"They are going into areas where they see good job growth and high incomes, and Seattle is very much like San Francisco. I've always said that Seattle is San Francisco's most northern suburb," he said in an interview.
"They physically look alike and are similar. Seattle is about five years behind San Francisco, and you look at San Francisco today and it'll tell you what Seattle will look like in five years. Because of the job growth and the kind of job growth - in knowledge-based industries - they want to be there."
Vanke's Seattle investment in the city is a significant step into the market, said Lucy Fletcher, managing director of international capital at JLL.
There's proximity to the (major gateway port markets of the West Coast. You've seen that immigrant wave in Vancouver, where today market pricing is at all-time record highs for condos and residential. You've got a number of major growth drivers in the Seattle economy," she said in an interview.