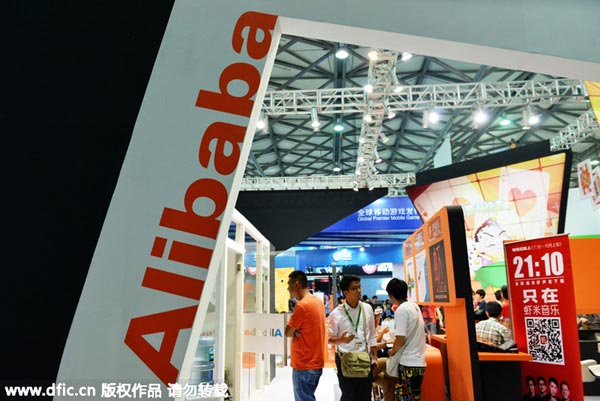 People visit the stand of Alibaba during the 12th China Digital Entertainment Expo, also known as ChinaJoy 2014, in Shanghai,July 31. [Photo/IC]
ORLANDO, the United States - Chinese e-commerce giant Alibaba said on Thursday that the company was "100 percent committed" to fighting counterfeit brand goods and aimed to be a leader in the battle against fake goods.
"As the global leader in e-commerce, we have both the responsibility and the commitment to be the global leader in anti-counterfeiting. We are 100 percent committed to fighting this battle," Michael Evans, president of Alibaba Group Holdings, told a three-day session held by the Washington-based International Anti-Counterfeiting Coalition, or IACC, in Orlando, Florida.
His remarks came a week after the industry coalition suspended Alibaba's membership partially due to accusations that it failed to control fake goods on the online shopping platform.
Alibaba's founder Jack Ma was originally scheduled to give a speech at the event on Thursday, but he pulled out and was replaced by Evans.
Evans called for joint efforts from companies across the world to deal with the "massive and pervasive industry issue", which is not unique to Alibaba or China.
"It happens on our platforms and on every other e-commerce platform globally. It is happening everywhere around the world, not just in China," he noted.
Therefore, success in this battle means developing collaborative and comprehensive strategies to beat them, he stressed.
Evans also spoke of early success in removing counterfeits from Alibaba's site. Through a partnership with product makers and the IACC, Alibaba has shut down and banned about 5,000 storefronts on Taobao. It has also removed more than 180,000 counterfeit listings.