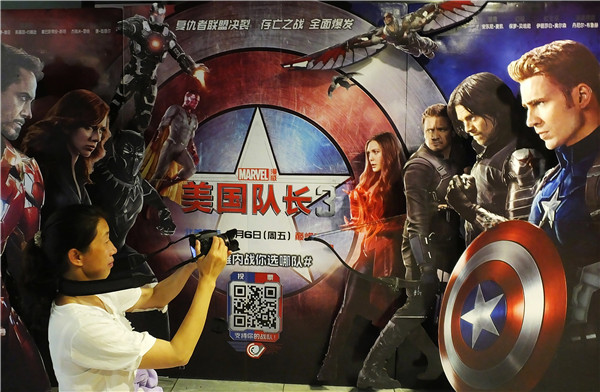 A cinema goer takes a picture of the Captain America 3 poster in Yichang, Hubei province.CHINA DAILY
Hong Kong's securities regulator says Chinese e-commerce giant Alibaba Group Holding Ltd breached takeover rules in the purchase of a healthcare firm in 2014. It says that is because it also bought a company owned by the brother of the healthcare firm's vice-chairman on "favorable terms".
Alibaba agreed to buy a stake in CITIC 21CN, now known as Alibaba Health Information Technology Ltd, for $170 million two years ago.
During the acquisition process, Alibaba also agreed to buy Hebei Huiyan Medical Technology Co from Chen Wenxin, who was also a shareholder of CITIC 21CN and is the younger brother of the company's vice chairman, Chen Xiaoying.
Hong Kong's Takeovers and Mergers Panel, part of the Securities and Futures Commission, ruled that Alibaba's purchase of Hebei Huiyan "constituted a special deal with favorable conditions which were not extended to all shareholders and was a clear breach of the Takeovers Code", according to the decision published on Wednesday.
Alibaba has already said it may appeal the panel's decision, which was announced last month without the full details.
The company said on Wednesday it is reviewing the panel's ruling and that it believes it has complied with the takeover code.
In calling the purchase of Hebei Huiyan a "special deal" the SFC invoked a rule aimed at preventing unequal treatment of shareholders.
Alibaba said a 533 percent surge in Alibaba Health shares since its takeover benefited shareholders of the health unit.
"Therefore, we believe that no Alibaba Health shareholder has been unfairly affected," Alibaba said in a statement.
The SFC ruled that the breach of code in the 2014 investment meant an original waiver to a requirement to launch a general offer to all investors was invalidated, Alibaba said last month.
The e-commerce firm added the regulator issued a new waiver in view of the sharp rise in Alibaba Health stock since 2014, meaning Alibaba is not currently required to launch a full buyout.