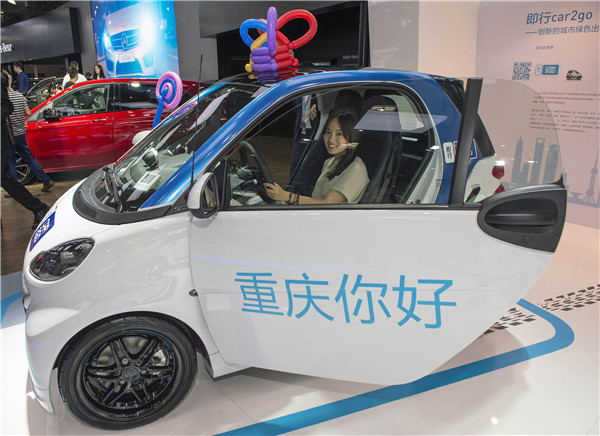 Car2go says that during its first month trial, some drivers found they also had to stump up unpaid parking fees, left by previous users.
But car-sharing rental service has teething problems with parking and maintenance
Car2go, Daimler AG's car-sharing rental service, has made a strong start to its new operations in southwest China's Chongqing after launching in the city on April 15, its first service in Asia.
Sam Guo, its chief operating officer in China, described the first month as "beyond our expectations", but conceded it had been affected by a lack of parking spaces, and poor vehicle maintenance issues.
Already popular in 29 European and North American locations, users can park the company's 400 blue-and-white liveried Mercedes-Benz Smart cars anywhere in a 60-sq-km area of the city after use.
"We are very happy this innovative mobility concept will be well received in Chongqing," said Guo.
"Tens of thousands of drivers have registered as members and the numbers are still growing daily. On average, one car is used by three members every day."
A report by Roland Berger Strategy Consultants GmbH, a global consulting firm, predicted in 2014 the Chinese car-sharing market would grow around 80 percent annually, until 2018.
Founded in 2008, Car2go claims it is the first and now the world's largest what it calls free-floating, car-sharing player.
The German firm, however, already faces competition from local Chongqing carmakers.
Lifan Group-owned Pand Auto launched its own car-sharing service last November in the Chongqing suburbs, operating 300 electric Lifan cars.
Pand expanded the service to downtown Chongqing last month.
Chang'an Automobile Group is also planning to put 500 electric cars into service in the city this year.
Car2go says it has designed a customized pricing system for Chongqing.
In addition to a 99-yuan membership registration fee, customers pay 1.19 yuan per km, plus 0.59 yuan per minute.
"The price is acceptable," said Zhao Wenkai, 30, a lawyer who has used the service.
His 14-km, 29-minute drive to work costs 38.49 yuan, "almost the same as a taxi or chauffeured car service", he said.
Also a car owner, he said terrible congestion and a lack of parking in the city center makes driving his own car "miserable".
"I like to try out new things, and it is cool to drive a Car2go on road."
But he added, he has also found previous users smoke in the car, often dropping ash, which was a downside.
Car2go says that during its first month trial, some drivers found they also had to stump up unpaid parking fees, left by previous users.
Zhang Xiaowei, 30, a company manager, said that happened to him twice.
"The previous user had parked the car beside the roadside parking lot, and I had to pay the fee first before I drove it off," he said.
"It was very annoying, and I would actually have rather hailed a taxi, in that case."
Several Car2go cars have been fined for parking improperly, according to local media reports.
"Such things have happened in other cities too-but Chongqing has turned out better than we anticipated," Guo said.
To counter the problem, he said Car2go now plans to improve information given to its users on where to park, and to lobby the authorities for more parking spaces.