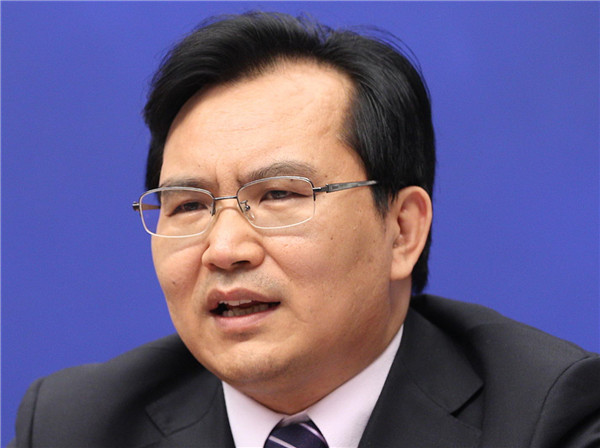 Sheng Laiyun, spokesman for the National Bureau of Statistics.[Photo/China Daily]
Further efforts needed to release the potential for growth and to reduce overcapacity
Renewed efforts are needed to push supply-side structural reform to further release growth potential, a senior government official said on Wednesday.
Sheng Laiyun, spokesman for the National Bureau of Statistics, said, "The economic fundamentals have not changed much, and we will not be swayed by short-term fluctuations."
But he said that China's stable growth momentum is largely unchanged and its economic fundamentals remain sound.
On Monday, President Xi Jinping also called for supply-side structural reform to be "resolutely pushed forward".
In March, the Government Work Report emphasized strengthening supply-side reform through cutting low-end supply while increasing high-end supply and public products and services.
Data released this month show that the consumer price index rose in April by 2.3 percent year-on-year, unchanged from March. Declines in the producer price index eased to 3.4 percent in April from a year earlier, compared with a fall of 4.3 percent in March. Other indicators, such as fixed-asset investment and retail sales growth, eased mildly in April.
More important, the stable inflation situation will mean policymakers do not need to resort to tightening measures to keep prices in check, benefiting economic growth.
Inflation pressure is expected to ease in the next two months due to reduced demand for pork in the summer and government efforts to stabilize pork prices, which have soared since January, Sheng said.
While Sheng expects a mild rise in the consumer price index throughout the year, Lian Ping, chief economist at Bank of Communications, said CPI fluctuations within a reasonable range will not lead to major changes in monetary policy.
Employment also remains stable, with 4.43 million jobs created in the first four months, or 44 percent of the number targeted for the year.
But there are challenges in the job market.
Although the overall situation is stable, employment pressure is rising, particularly in medium-sized cities with a glut of heavy industries, Sheng said.
He also said that while prices and jobs stabilize, policymakers can concentrate on supply-side structural reform to tackle "economic headwinds" such as overcapacity in some sectors.
"Despite some encouraging signs since the start of the year, efforts to boost structural reform remain inadequate," Sheng said.