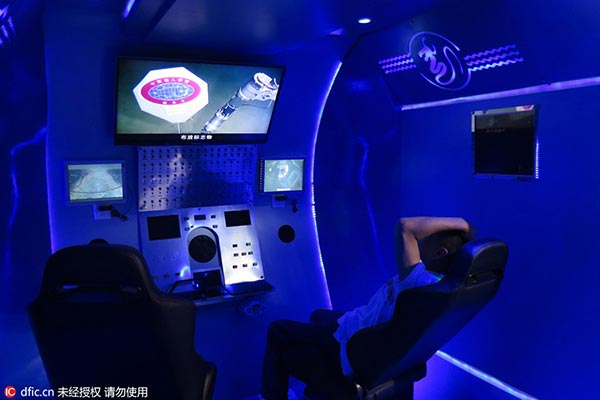 A visitor at the model of a manned submersible Jiaolong's interior during the ongoing 19th China Beijing International High-tech Expo (CHITEC) in Beijing, May 19, 2016. [Photo/IC]
BEIJING - Private cars and public buses may no longer have to battle for precious road space in congested cities, thanks to one Chinese company.
A model of a Transit Elevated Bus (TEB) debuted at the 19th China Beijing International High-Tech Expo this week, one of many homegrown inventions on display. The passenger compartment of this futuristic public bus rises far above other vehicles on the road, allowing cars to pass underneath.
TEB is a purely domestic invention, said Song Youzhou, TEB's chief engineer, and it has already attracted interest from governments in France, Brazil, India and Indonesia looking to incorporate the vehicles into public transit systems.
Chinese companies and research institutions are reasserting their growing might in cutting-edge technology at the expo.
The expo has been held each year in Beijing since 1998. It was initially designed to expose China to advanced technology from around the world.
In its early years, foreign companies were the stars of the show.
"Foreign companies' booths got the best locations inside the hall, with all the special effects -- the lights and things to draw the attention of attendees," said Wang Ping, a Chinese journalist who has been covering the expo since 1999. "At that time, Chinese companies' booths were modest at best."
Yet that has changed over the years, as China ramps up spending in research and development and views indigenous innovation as a crucial source of sustainable growth.
Research spending has risen to 2.1 percent of GDP, with annual R&D expenditures growing more than 20 percent over the past two decades. However, the number still lags behind the 2.8 percent typically found in advanced economies such as the United States, Germany and Japan.
China aims to elevate its R&D spending as a share of GDP to 2.8 percent by 2030. The target is part of a broader plan to catapult the country into the ranks of the world's leading innovative economies, with many of its industries climbing to the upper end of the global value chain, according to a master plan on boosting innovation-based growth released Thursday by China's cabinet.
According to a study of the top 1,000 companies in terms of research spending by Strategy&, the consulting arm of accounting firm PwC, research spending has been growing faster in China than any other major economy since 2007.
That kind of aggressive R&D input has spawned many homegrown innovations worthy of the spotlight at expos such as CHITEC.
Domestic companies and research institutions now hold a commanding presence at CHITEC.
Some participating companies have been quite frank about not having the best technology compared to their global peers. Yet their focus is on looking for a market for their "good enough" technology to help businesses move up the industrial chain.
Pressured by rising labor costs and increasingly harsh environmental penalties, Chinese companies have been forced to strive for greener and more efficient production.
China's labor costs rose 183 percent between 2005 and 2013, the highest among major upper-middle-income countries such as Brazil, Turkey, Thailand and South Africa, data compiled by China International Capital Corporation (CICC) showed.
Meanwhile, growing environmental constraints and China's commitment to cutting emissions mean companies will have to foot the bill for technology upgrades and cleaner, pricier alternative energy.
An increasingly choosy consumer class at home also adds to the urgency for Chinese companies to upgrade in order to stay relevant.
A study of domestic firms by CICC found that companies in sectors such as computers, electronics, machinery and equipment reported the most aggressive research spending among all firms listed.
Such spending is positively correlated with a company's earnings, the CICC said, based on analysis of the financial reports of listed companies.
If Huawei were a public company, its research spending of $6.6 billion in 2014 would have been the world's 16th largest, above peers Cisco, ranked 18th at 6.3 billion, and Apple, ranked 19th at 6 billion, according to data compiled by Strategy& and CICC.
China's booming cross-border merger and acquisition activities are also increasingly driven by the need to adopt cutting edge technology to sharpen global competitiveness.
Cross-border deals in China hit $60 billion last year and surpassed $90 billion in the first quarter of this year, according to financial research firm Factset. The increase was mostly driven by technology deals, which registered an annual compounded growth rate of 45 percent over the past five years and whose share of China's total cross-border deals more than doubled to 30 percent in the same period.