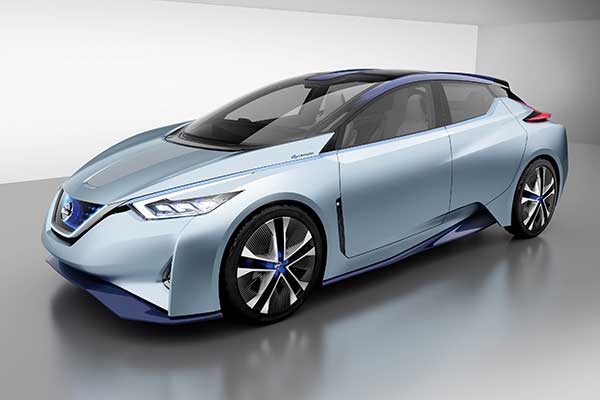 Nissan IDS Concept [Photo provided to chinadaily.com.cn] 
Chinese premium car owners are more interested in high-technology configurations while the Europeans are more concerned about the practicability of the vehicle, according to a report released this week.
More than 80 percent of premium car owners in China are greatly influenced by the controllability and advanced technology of the models when making a purchasing decision, the survey from Hurun Report said.
Intelligent vehicle interaction system, automatic engine start-stop functions and driving assistance are must-haves for the Chinese high-end car owners. They also like options such as airless and explosion-proof tire, command system, auto piloting and intelligent recharging.
In Europe, people tend to be only interested in whether the high-tech vehicle could result in energy efficiency, the report said.
About 70 percent of Chinese premium car owners are the users of car-hailing applications, while the rate drops to 35 percent in Europe, showing different attitudes toward the use of technology.
Half of both Chinese and European premium car owners have been the drivers of car-hailing apps, believing such behavior would bring more possibilities to make new friends, taking part in public welfare activities and saving energy and protecting the environment.
Zhang Xiaoming, 39, a Mercedes-Benz owner from Beijing, said performance and comfortable levels were the key points for him in choosing the car. With a bachelor's degree, Zhang currently is a manager of a film company. He is also a user of the car-hailing service Didi Dache.
Luo Xin, 36, a Porsche owner from Shanghai, said he cared about brand value, eye-catching appearance and performance most when he bought the car, which is his third. Luo is the owner of an English-language training institute.
The report was based on a survey of 1,350 Chinese car owners from 10 cities: Beijing, Tianjin, Dalian, Shanghai, Hangzhou, Guangzhou, Shenzhen, Xiamen, Kunming and Chengdu. It also surveyed 1,110 car owners from six European countries: the United Kingdom, Germany, France, Italy, Spain and Sweden.
The report compared the images of nine premium auto brands and their owners in China and Europe, including Mercedes-Benz, BMW, Audi, Porsche, Lexus, Volvo, Land Rover, Cadillac and Infiniti.
It said while the Europeans are relatively more mature on vehicle purchasing, the Chinese are more emotional. They have different types of concerns and the purpose of using the vehicle varies.
In general, the premium car owners in China are younger, with an average age of 33. The male owners account for 74 percent in China and 62 percent in Europe.
Education background is the most different feature. The Chinese premium car owners are more educated, 97.6 percent of them have bachelor's or higher degrees. It is 67.7 percent in Europe.
Consumption preference is also difference. European consumers are more sensitive on pricing, with 44 percent of them caring about the price, much higher than the 17 percent in China.
Brand and sales have greater influence on the Chinese than European, the report said.
duxiaoying1@chinadaily.com.cn