Mainland luxury-car market shrugs off the blues
Updated: 2015-12-11 09:27
By Deng Yanzi in Hong Kong(HK Edition)
| | | | | | | | | |
| --- | --- | --- | --- | --- | --- | --- | --- | --- |
|   | | Print | | Mail | | Large Medium  Small | 分享按钮 | 0 |
The Chinese mainland's luxury-car market is set to take off in defiance of the country's economic slowdown, as potentials continue to be unleashed during the ongoing process of urbanization, industry insiders believe.
"Second- and third-tier cities are the best proof of the continuing urbanization of China. The ongoing urbanization is going to give our market a boost," says Hans Michael Jebsen, chairman of Jebsen Group.
While operating across the mainland, Jebsen Motors, owned by Jebsen Group, is the exclusive dealer for Porsche cars in Hong Kong and Macao.
Despite the current economic stagnation, Porsche managed to deliver 49,190 vehicles from January to October this year on the mainland and in Hong Kong and Macao. The figure surpassed the company's annual sales last year.
The mainland remains Porsche's second-largest market after the US, with 46,931 cars sold last year, 18 percent of which were delivered by Jebsen's Porsche centers - one fourth more than the previous year - in five major mainland cities and Hong Kong and Macao SARs.
"Most automotive manufacturers have been affected by the slowdown, and we are among the very few still doing well," says Franz Jung, president and chief executive officer of Porsche China.
Jung believes the popularity of the Macan - a five-seater Porsche SUV (sport utility vehicle) - on the mainland helped lift the company's business.
"Our product line could not be better at this time, mainly because of the Macan's successful production, as the small SUV segment it represents is the only segment that's going so strong."
Macan, launched in 2013, generated almost half of Porsche's mainland sales, according to Bloomberg.
The inclusion of Macan was "an added spring" for Porsche's sales in Hong Kong, which enjoys a well-established and enthusiastic customer base for sports cars, Jebsen says.
"We have a strong 911 base and Hong Kong, traditionally, has a strong following in the sports car segment that goes straight across the product range from the Boxter, Cayman (both are two-seater roadsters) and, of course, our classic 911," he says.
Jebsen Motors delivered around 1,500 cars in Hong Kong and 226 in Macao in 2014. "We're budgeting this year for a similar figure which may even increase," says Jebsen.
This year marks the 60th anniversary of the partnership between Jebsen and Porsche, which commenced when Jebsen Motors imported the first Porsche into Hong Kong in 1955. "This partnership has been working very well for 60 years. It's, without a doubt, very successful. Jebsen had paved the way for Porsche 60 years ago. Without having successfully paved the way, we would not have been able to celebrate the success we have now at Porsche," Jung says.
Jebsen believes the consistent rollout of dealerships across the country has made the mainland market a consistent success for Porsche.
"Porsche has very high standards among motor manufacturers in the world, when it comes to training and meeting standards. In fact, their particular way of rewarding dealerships is to make sure that these standards are being kept," he explains.
Jebsen Motors showed its commitment to the German luxury automaker by making Porsche the only brand under their automobile business, according to Helmuth Hennig, Jebsen Group managing director.
What Jebsen had experienced in the 60 years of partnership with Porsche was to focus on just one brand for our system. It made Jebsen more efficient by focusing on one company, Hennig reckons.
He reveals the Jebsen Group would step up investments on the mainland to keep up with Porsche's growth in the country.
Jebsen will continue to make its presence felt in first- and second-tier cities with which it is already familiar, and has no immediate plans to expand to third- or fourth-tier cities.
Chairman Jebsen points out that luxury automakers like Porsche will benefit from the mindset shift of Chinese consumers who continue to crave for sophistication.
"I see a long-term growth opportunity for brands like Porsche, not necessarily the mass, medium quality brands one would otherwise think of," Jebsen argues. "You have to be really good to make it a sophisticated environment in China because people here are extremely well-informed."
He hopes to cater to the market by establishing a personal and trusting relationship with customers. "Ultimately, people want quality - they want quality in the product, the service, and the way they are treated. They want the feeling of being in very safe hands, like going to your family doctor. This is the type of relationship we would like to establish," he says.
iris@chinadailyhk.com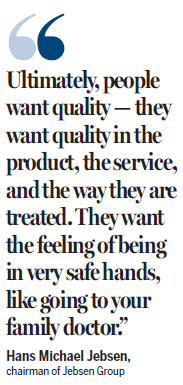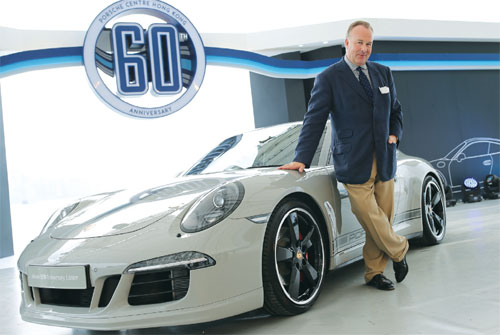 Hans Michael Jebsen, chairman of Jebsen Group - Porsche's exclusive dealer in Hong Kong - poses with a special edition model of Porsche 911 Carrera GTS to mark the group's 60th anniversary of partnership with Porsche at the Kai Tak Cruise Terminal on Nov 14. Edmond Tang / China Daily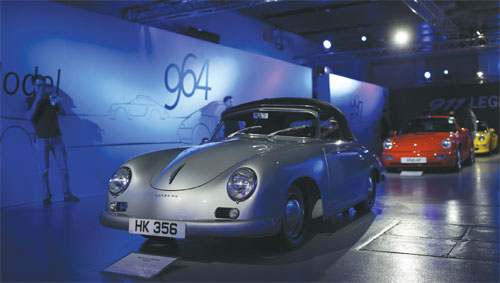 A model of luxury sports car Porsche 356SC is displayed at an exhibition to celebrate Porsche's exclusive dealer Jebsen Group's 60 anniversary of partnership with the sports car manufacturer at the Kai Tak Cruise Terminal on Nov 14. Edmond Tang / China Daily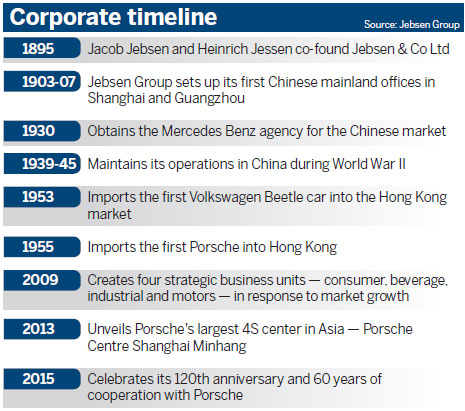 (HK Edition 12/11/2015 page8)