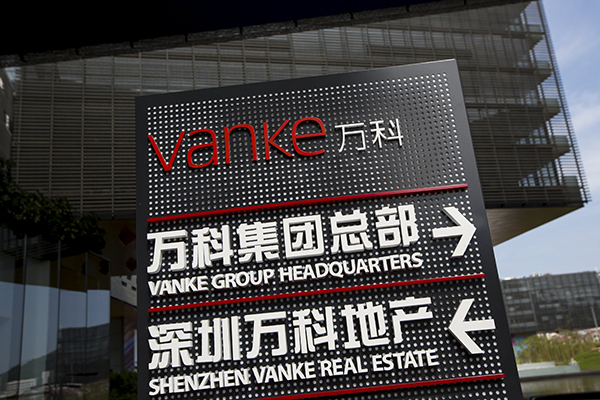 Signs show the direction of Vanke group headquarters and Shenzhen Vanke Real Estate at its headquarters in Shenzhen, south China's Guangdong province, Nov 2, 2015. [Photo/Agencies]

Planned controversial $7 billion acquisition of Shenzhen Metro assets leads to battle
Shares of China Vanke Co Ltd, the country's biggest residential developer, tumbled in Hong Kong on Monday. The fall underscored investors' concerns about the clash between the company and its second-largest shareholder, China Resources Co Ltd, over a controversial $6.9 billion deal it is funding through the issue of new shares.
Vanke stocks in Hong Kong fell more than 3.5 percent during intraday trading, although they managed to recoup some losses to close at HK$17 ($2.19), down by 2.97 percent.
Vanke's plan to buy assets from Shenzhen Metro Group Co Ltd by issuing new shares to the latter has faced strong opposition from China Resources, the State-owned conglomerate that has been attempting to block the deal as it would significantly dilute its shareholding in the developer.
If successful, the deal will make subway builder Shenzhen Metro the biggest shareholder of Vanke with a 20.26 percent stake. The shareholding of the current biggest shareholder Baoneng Group and its affiliates will be diluted to 19.27 percent, while China Resources' shareholding will be reduced to 12.1 percent, according to a stock exchange filing.
The clash escalated over the weekend as China Resources questioned the legality of Vanke's acquisition proposal and claimed that if failed to obtain a two-thirds majority vote, or eight of the 11 members, from the board.
However, Vanke defended the deal, saying it had won the board's endorsement in a seven-to-three vote, as one independent director chose to abstain due to conflict of interest.
Legal experts said that China Resources can take legal action against Vanke's management team if it believes the resolution violates corporate law and regulations.
China Resources has also threatened to vote against the restructuring plan in a shareholders' meeting, which will be held in September.
Goldman Sach analysts were quoted by Bloomberg as saying that introducing Shenzhen Metro as the largest shareholder will see the group become a "railway plus property" business model, as the residential real estate side of the business shows no signs of slowing down.
Some analysts said that the deal met strong opposition from China Resources not only because it would dilute its shareholding, but also because the proposed bid price of 15.88 yuan ($2.41) per A share, at a 24 percent discount to Vanke's net asset value, will hurt the interests of other shareholders.