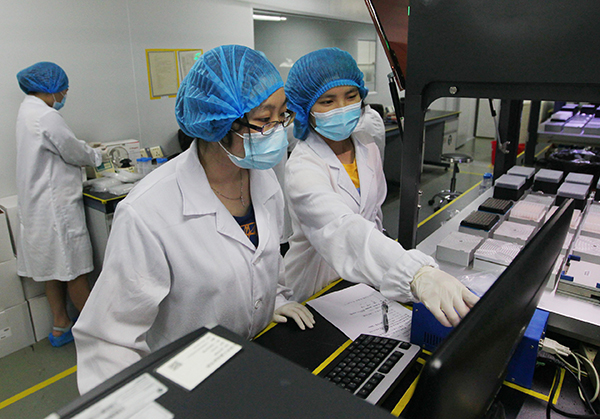 Researchers at BGI work in the lab in Shenzhen, Guangdong province. [Photo/CFP]
BGI, one of the world's biggest genomics companies, is making efforts to promote innovation in the industry by creating Miracle Light, the only incubation platform in the world that focuses on the genetics industry.
"Innovation and entrepreneurship that meet a fundamental need of human development will definitely lead us to a new path," Wang Jian, president of BGI, said at the ceremony marking its launch on Sunday. He said the incubator, which is located in an industrial park in Shenzhen's Nanshan district in Guangdong, aims to provide an open and innovative platform on which scientific research, technological development and industry resources can be integrated together to promote development of the industry.
Liu Liang, chief executive officer of Miracle Light, said human resources, capital and marketing are the three main problems the incubator strives to solve.
The shortage of talent has been a challenge for the development of the genetics industry. Although there are talented workers available in the medical science, health and ecology sectors, which are all related to genetics, the problem is they do not know how to combine them with gene technology, Liu said.
"What we strive to do is to train the talent and to increase the number from 100,000 to 1 million. We encourage those with entrepreneurial spirits to enter the industry to pave the way for its growth," he said.
Zhou Luming, former head of the Shenzhen Science and Technology Association and secretary-general of the Committee of China Radical Innovation 100, an exchange and service platform for promoting innovation in the country, said the change in the "global innovation chain" has brought huge opportunities for Chinese startups in the life science industry.
"In the past, the global innovation chain was very long. Different organizations were needed to fill different parts in the process. But now, it has become shorter. All the work can be completed with only one company, from basic research to final production," Zhou said.
This means Chinese companies will be able to play a bigger role, he said.
Mei Yonghong, director of the China National Genebank, said more platforms and channels need to be established so that BGI's rich resources in the genetics industry can be better connected with external resources to create high value-added products and services.
"We have great interest and high expectations for Miracle Light and other organizations similar to it," Mei said.
The 3,000-square-meter incubator now hosts 10 entrepreneurial projects, said Liu.