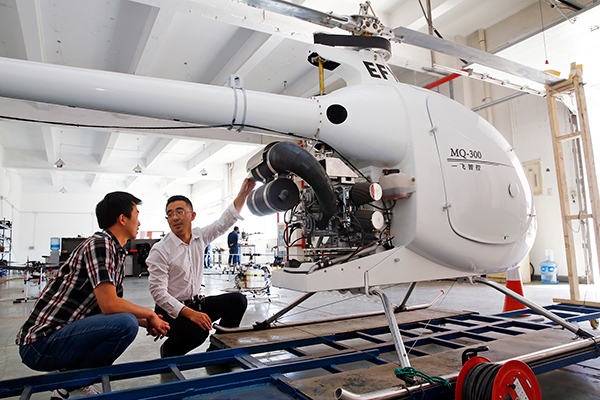 Technicians check a pilotless helicopter at a startup company in the Binhai New Area of Tianjin. [Photo provided to China Daily]
Finance leasing is becoming the second-largest source of capital, after bank loans, for small and medium-sized businesses in Tianjin, an industrial and logistics hub in northern China, according to the city's financial watchdog.
"The finance-leasing segment is in expansion mode, as it offers much-needed funds to various companies, especially those small and medium-sized ones," said Sun Jingyun, deputy director of the Tianjin Bureau of Financial Affairs.
Small and medium-sized enterprises often have difficulty getting bank loans, so finance leasing provides much needed liquidity because of its more flexible policies, added Sun.
Baolai Precision Machinery Industry Group in the city is a beneficiary of the booming finance-leasing business. In the past decade, the company bought manufacturing equipment through 27 finance-leasing deals worth 60 million yuan ($9.23 million).
Baolai has more than 800 high-end processing machines and 50 quality detection devices. According to company President Cui Yachen, more than 40 percent of its equipment was bought through finance leases, and the value of the company's annual output increased by 20 percent on average over the past 10 years.
Cui said it is more difficult to obtain bank loans, and their repayment periods are comparatively short, placing a big strain on the company's cash flow.
"Although the fee for finance lease is higher, repayment periods can stretch as long as three to five years, granting us more time for product sales and the repayment pressure is much lower," Cui noted.
To cut the costs for firms in finance leasing, the Tianjin municipal government is offering a subsidy to lessees.
"From 2016 to 2017, Tianjin will provide 3 billion yuan in subsidies, to cover about 70 percent of leasing fees for qualified enterprises," said Chen Yu, deputy chief of the Tianjin Bureau of Financial Affairs.
The annual interest rates for finance leasing range from 5 percent to 8 percent. The government subsidy will help cut the rate to less than 3 percent for Baolai, which is heading for a stock market listing in August.
In contrast, a local bank loan's average annual interest rate is about 5.16 percent.
Cui said Baolai plans to spend 10 million yuan buying new equipment through finance leasing this year, and another 30 million yuan to 50 million yuan next year.
Statistics from the Tianjin government show there are 773 finance leasing institutions in the city, and the overall value of leasing on asset has hit 680 billion yuan.